Sku:

SP10102

Vendor: El Antiguo
El Antiguo Combo -Alicante y Jijona - Suprema Quality 2 7 oz boxes
Taste the authentic flavors of Spain with our El Antiguo Combo - Alicante and Jijona.
This exceptional offering includes two 7 oz boxes of supreme quality Spanish delights, carefully imported from the heart of Spain.
In each box, you'll uncover a taste of Spanish tradition that has been cherished for generations.
The Alicante box features the iconic hard nougat, made from the finest toasted almonds and top-quality honey. Its crisp texture and sweet-yet-subtle flavor will transport you to the festive traditions of Spain, evoking warm memories of holidays past.
On the other hand, the Jijona box will captivate your senses with its soft nougat, a velvety delight that melts in your mouth. Crafted with finely ground almonds and premium honey, it pays homage to the time-honored artisanal craftsmanship of Jijona, renowned for producing the world's best soft nougat.
Both boxes of Spanish nougat are not only a perfect treat for yourself but also make an exquisite gift for friends and family on special occasions. They are ideal for those who seek supreme quality products made from natural ingredients and without artificial preservatives.
The El Antiguo Combo - Alicante and Jijona - Suprema Quality is a true culinary gem that brings the rich gastronomic tradition of Spain to your doorstep. Imported with care, these two 7 oz boxes are a testament to the artistry and passion that go into creating the finest Spanish nougat.
Savor the taste of Spain and elevate your snacking experience with El Antiguo Combo.
Order now and embark on a delicious journey imported directly from Spain!
View full details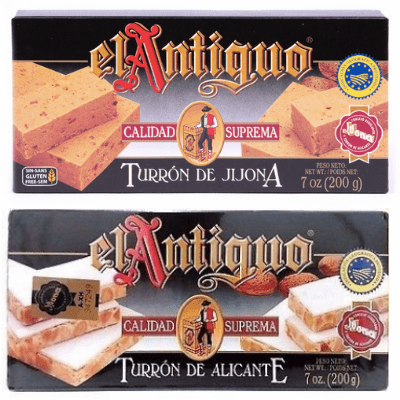 El Antiguo Combo -Alicante y Jijona - Suprema Quality 2 7 oz boxes