Sku:

SP0091

Vendor: Amigo Foods Store
El Almendro Torta Imperial Sin Azucar 200 grs (7 oz.)
Discover the timeless taste of Spain with El Almendro's Torta Imperial Sin Azúcar, a sugar-free indulgence that brings the Mediterranean's sun-drenched flavors to your palate.
Crafted with the passion of Spanish confectionery traditions, this 200g (7 oz.) almond treat is a health-conscious delight, perfect for those who savor natural sweetness without compromise.
Key Features:
Authentic Spanish Recipe: Experience the essence of Spain in every bite with our classic Torta Imperial, made following a traditional recipe that dates back centuries.
Sugar-Free Indulgence: Satisfy your sweet tooth without the sugar. Perfect for diabetics or those watching their sugar intake, our torta is sweetened naturally, ensuring you can indulge guilt-free.
Premium Almonds: Packed with the finest quality Mediterranean almonds, this torta is not just delicious but also a great source of protein and fiber.
Versatile Snack: Whether it's a companion to your morning coffee, a luxurious after-dinner treat, or a quick snack on the go, our almond torta fits seamlessly into any part of your day.
Whether you're looking to elevate your snack time, find the perfect accompaniment to your tea and coffee rituals, or treat a loved one to a sophisticated sugar-free gift, El Almendro's Torta Imperial Sin Azúcar is an unmatched choice.
Indulge in the pure, unadulterated flavor of Spain with El Almendro – where tradition meets wellness. Add this sugar-free almond treasure to your pantry today and savor the art of Spanish confectionery with every slice.
View full details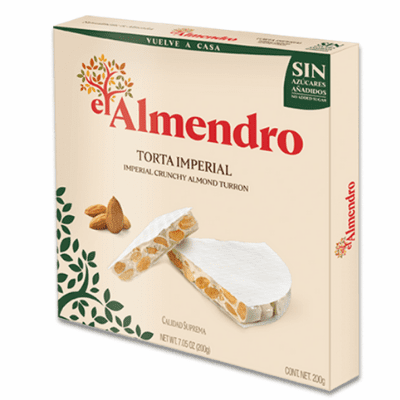 El Almendro Torta Imperial Sin Azucar 200 grs (7 oz.)