Sku:
Vendor: Amigo Foods Store
El Maragato Fabes (Fabada Beans), Legumbres de Leon 2.2 lbs (1kg)
Hailing from the historic region of León, Spain, El Maragato Legumbres offers a culinary experience that is an ode to centuries-old Spanish traditions. These fabada beans are not just grains; they are morsels of Spanish culture, nurtured by the Spanish sun, rain, and soil.
Key Features:
Authentic Origin: Sourced directly from León, Spain, each batch represents the pure essence of Spanish agriculture.

Traditional Farming: Grown using time-honored agricultural practices, ensuring every grain is of the highest quality.

Rich Nutritional Value: Packed with essential nutrients, they're a wholesome addition to any meal.

Versatile Ingredient: Ideal for stews, soups, salads, or any traditional Spanish dish.
Taste & Texture:
Expect a robust flavor profile that's characteristic of Spanish legumes – slightly nutty with a hearty and creamy texture when cooked. It's the kind of taste that transports you to a Spanish countryside with every bite.
Cooking Instructions:
For optimal flavor and texture, soak overnight and simmer until tender. Pair with traditional ingredients like chorizo, morcilla, or vegetables for a delectable Spanish meal.
Storage:
Store in a cool, dry place. Seal tightly after opening to maintain freshness.
Experience Spain in Every Bite:
El Maragato Legumbres de León is more than just legumes; it's a journey through Spain's rich culinary history. Whether you're an adventurous foodie or someone seeking quality ingredients, these legumes promise an unparalleled experience.
View full details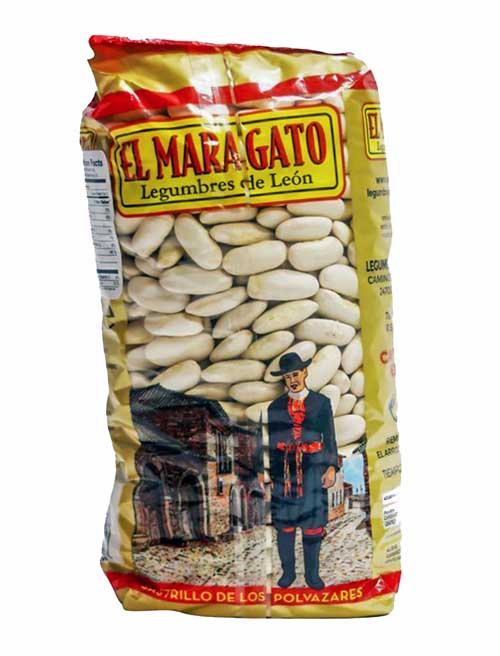 El Maragato Fabes (Fabada Beans), Legumbres de Leon 2.2 lbs (1kg)