Sku:

SP04133106086

Vendor: El Belen
El Belen Turron Duro Mani (Peanut Brittle Nougat) Box 5.3oz - Supreme Quality - Spain
El Belen Turron Duro Mani (Peanut Brittle Nougat) – a delightful Spanish treat that encapsulates the essence of supreme quality and rich tradition. Crafted with care and precision in Spain, this 5.3oz box of joy is a sweet revelation that will tantalize your taste buds and transport you to the heart of Spanish culinary excellence.
Key Features:
Authentic Spanish Flavor: Immerse yourself in the authentic flavors of Spain with El Belen Turron Duro Mani. This nougat is a cherished Spanish delicacy enjoyed by generations.

Crunchy Peanut Brittle: Each bite is a harmonious blend of crunchy roasted peanuts and the sweet, chewy goodness of nougat. It's a texture sensation that will leave you craving for more.

Supreme Quality: El Belen's commitment to quality is unwavering. This Turron Duro Mani is made with the finest ingredients, ensuring supreme taste and freshness in every bite.

Festive Packaging: The 5.3oz festive box is a perfect gift for loved ones or a delightful addition to your holiday celebrations.

Versatile Treat: Enjoy it as a sweet snack, pair it with your favorite dessert wine, or use it as a delectable topping for ice cream. The possibilities are endless!

Cultural Tradition: El Belen Turron Duro Mani encapsulates the rich cultural tradition of Spain, making it a delightful addition to your holiday festivities or a unique souvenir from your culinary journey.
Indulge in the irresistible flavors of Spain with El Belen Turron Duro Mani. Whether you're savoring it on your own or sharing it with friends and family, this supreme-quality nougat promises a taste experience that will leave you yearning for more. Order your box today and bring the essence of Spain to your doorstep. Elevate your snacking experience with El Belen – where tradition meets supreme quality.
View full details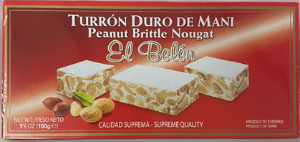 El Belen Turron Duro Mani (Peanut Brittle Nougat) Box 5.3oz - Supreme Quality - Spain