Sku:

SP09812

Vendor: El Antiguo
El Antiguo Turron Yema Tostada 200 grs / 7 oz Supreme Quality
Enjoy the authentic taste of Spain with the exquisite El Antiguo Turron de Yema Tostada Suprema. Each 200 gr / 7 oz pack of this traditional Spanish delight promises an unforgettable gourmet experience.
Authentic Spanish Delicacy: Originating from the heart of Spain, our Turron de Yema Tostada is crafted following centuries-old recipes, ensuring a genuine taste that brings the essence of Spanish culinary tradition to your home.
Supreme Quality Ingredients: Made with the finest almonds and egg yolks, El Antiguo Turron is a testament to quality.
Perfectly Toasted for Rich Flavor: The unique toasting process of the egg yolk creates a caramelized top layer, giving the turron its distinctive toasted flavor and rich, golden color. This careful process ensures a perfect balance of sweetness and nuttiness in every bite.
Versatile Culinary Delight: Whether enjoyed as a festive treat, a luxurious dessert, or a sophisticated snack, El Antiguo Turron de Yema Tostada fits perfectly into any culinary occasion. Pair it with fine wine, coffee, or enjoy it on its own.
Ideal for Gifting: Presented in elegant packaging, this Turron makes a thoughtful and unique gift for food enthusiasts, friends, and family. Perfect for holidays, celebrations, or as a special token of appreciation.
Conveniently Sized: The 200 gr / 7 oz size is ideal for sharing or for savoring over multiple occasions. It's the perfect addition to your pantry for when you need a touch of gourmet indulgence.
Add a touch of Spanish luxury to your dining experience with El Antiguo Turron de Yema Tostada Suprema. Order now and savor the richness of Spain's culinary heritage.
View full details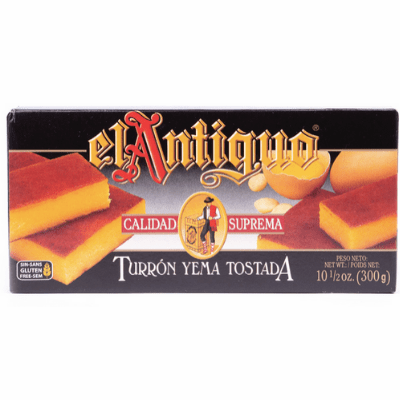 El Antiguo Turron Yema Tostada 200 grs / 7 oz Supreme Quality