Sku:

SP99019

Vendor: El Antiguo
El Antiguo Turron Yema 200 grs / 7 oz Supreme Quality
Experience the rich heritage and culinary artistry of Spain with premium El Antiguo Turron de Yema Suprema. This 200 grams (7 oz) delicacy is a testament to traditional confectionery excellence, offering a unique blend of flavors and textures that are quintessentially Spanish.
Key Features:
Authentic Spanish Turron: Crafted using age-old recipes from Spain, this turron offers an authentic taste of Spanish tradition.
Suprema Quality: Made with the finest ingredients, including premium almonds and smooth yema, ensuring a luxurious and indulgent experience.
Perfect Texture: The careful balance of crunchy almonds and creamy yema creates a delightful contrast, pleasing to the palate.
Versatile Delight: Ideal for festive occasions, as a gourmet gift, or a delightful treat for those special moments.
Convenient Size: Packaged in a 200 grams (7 oz) portion, perfect for sharing or savoring solo.
Taste Profile: The El Antiguo Turron de Yema Suprema is a symphony of flavors. The roasted almonds provide a nutty and earthy undertone, perfectly complemented by the rich, sweet yema that melts in your mouth. Each bite takes you on a journey through the warm and inviting tastes of Spain.
Ideal for:
Gifting for special occasions
Adding a Spanish touch to your dessert selection
Enjoying with family and friends
Pairing with coffee or a sweet wine
Indulge in the luxurious and authentic flavors of Spain with El Antiguo Turron de Yema Suprema. Order now and savor the taste of Spanish tradition!
View full details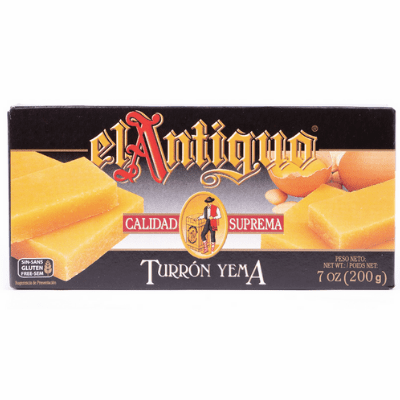 El Antiguo Turron Yema 200 grs / 7 oz Supreme Quality