Sku:

SP522045

Vendor: El Antiguo
El Antiguo Turron Mazapan Fruta Net.Wt 7 oz
Indulge in the exquisite taste of traditional Spanish confectionery with El Antiguo Turron Mazapan Fruta, a perfect blend of culture and flavor in a convenient 7 oz package. Crafted with passion in Spain, this turron is a testament to centuries-old culinary art.
Key Features:
Authentic Spanish Recipe: Made following traditional methods, this turron mazapan brings the authentic taste of Spain right to your doorstep.
Premium Quality Ingredients: Composed of the finest almonds and natural fruit flavors, ensuring a rich, decadent experience with every bite.
Versatile Delight: Perfect as a festive treat, a luxurious snack, or a thoughtful gift for lovers of gourmet sweets.
Natural Flavors: Enjoy the tantalizing blend of sweet marzipan with bursts of fruity essences, creating a unique and irresistible taste.
Convenient Size: The 7 oz package makes it ideal for sharing or savoring over time.
Serve El Antiguo Turron Mazapan Fruta as a sophisticated dessert at dinner parties, enjoy it as a special treat during the holidays, or pair it with your favorite coffee or tea for a luxurious break in your day.
View full details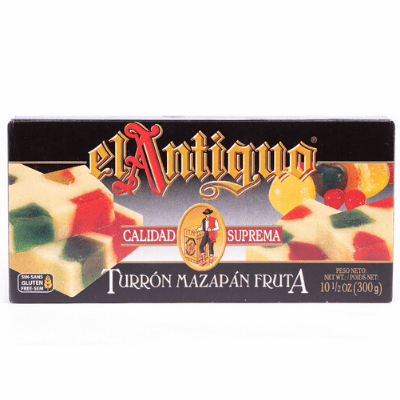 El Antiguo Turron Mazapan Fruta Net.Wt 7 oz