Sku:

el-almendro-yema-tostada-marzipan

Vendor: El Almendro
El Almendro Turron Yema Tostada (Marzipan Turron) Net Wt 200g
Discover the Rich Tradition of Spanish Sweets with El Almendro Turron Yema Tostada!
Embark on a delectable journey through Spain's confectionery art with El Almendro's Turron Yema Tostada - a classic marzipan turron that embodies the essence of Spanish festivities. This exquisite treat, weighing 200 grams, is a luxurious blend of finely-ground almonds, sweetened yolk, and a delicate toasting that unlocks a symphony of flavors.
Crafted with Passion, Enjoyed with Pleasure Since 1883, El Almendro has been a staple in Spanish homes, especially during the holiday season. El Almendro Yema Tostada Marzipan Turron is a testament to this legacy, made using traditional methods that have been perfected over generations. The commitment to quality and flavor is evident with every bite.
Taste the Authenticity Savor the rich, nutty flavor of premium almonds, the cornerstone of this timeless treat. The almonds are sourced from Spain's fertile groves, ensuring a product that's as authentic as it is irresistible. The turron is not just candy; it's a slice of Spanish heritage.
Perfectly Toasted, Delightfully Sweet The yema, or egg yolk mixture, is gently toasted to a golden hue, imparting a unique depth of flavor that's both rich and comforting. This process creates a subtle caramelization that complements the natural sweetness of the marzipan.
A Festive Treat for Any Occasion El Almendro Turron Yema Tostada is not just for Christmas! Enjoy it as a sophisticated snack, a sweet finish to a meal, or as a thoughtful gift for friends and family. Whether you're celebrating a special occasion or simply craving a slice of Spanish indulgence, El Almendro turron is the perfect choice.
Easy to Store, Delightful to Serve Presented in a convenient and elegant packaging, this turron maintains its freshness and flavor. Store it in a cool, dry place and serve at room temperature to ensure the perfect texture and taste experience.
Experience El Almendro Turron Yema Tostada today and treat yourself to a gourmet sweet that's authentically Spanish. Add to cart now for a journey of flavor that's just a click away!
View full details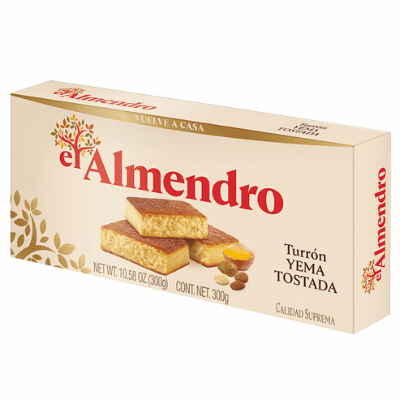 El Almendro Turron Yema Tostada (Marzipan Turron) Net Wt 200g