Sku:

SP8410223801377

Vendor: El Almendro
El Almendro Turron Fruta (Fruit Nougat) 200g
Discover the authentic taste of Spain with El Almendro Turron Fruta (Fruit Nougat), a 200g bar of delectable goodness that brings together the traditional craftsmanship of Spanish confectionery and the vibrant flavors of natural fruits. This gourmet delight is perfect for those who appreciate the finer things in life and are looking for a premium snacking experience.
Crafted with Excellence – El Almendro, a brand synonymous with quality, has been creating traditional turron since 1883. Their commitment to tradition and quality ensures that every bar of Turron Fruta is a testament to their artisanal heritage.
Luscious Fruit Blend – Each bar is packed with a generous assortment of candied fruits, which not only add a burst of color but also a tangy sweetness that perfectly complements the rich, nutty flavor of the nougat.
Nutty Delight – At the heart of this Turron Fruta lies a selection of the finest almonds, a staple in Spanish sweets. These nuts are not only delicious but also provide a satisfying crunch and a source of protein.
Perfectly Sweetened – El Almendro's Turron Fruta is carefully sweetened to enhance the natural flavors without overpowering them, ensuring a balanced taste that's not too sweet but just right.
Versatile Treat – Whether you're pairing it with a cup of coffee, enjoying it as an after-dinner dessert, or sharing it during the holidays, this fruit nougat is versatile and suitable for any occasion.
Great for Sharing – Packaged in a convenient 200g bar, El Almendro Turron Fruta is ideal for sharing with family and friends, making it a wonderful addition to any gathering or as a thoughtful gift.
Traditional yet Innovative – While staying true to the roots of Spanish turron, this fruit nougat is a modern twist on the classic, offering an innovative flavor profile for the adventurous palate.
Don't miss out on the opportunity to savor the rich blend of flavors that El Almendro Turron Fruta offers. Add this exquisite Spanish fruit nougat to your cart and take the first step towards a truly delightful culinary journey!
View full details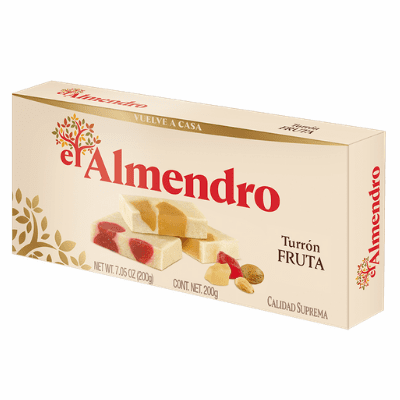 El Almendro Turron Fruta (Fruit Nougat) 200g