Sku:

SP5614

Vendor: Amigo Foods Store
El Almendro Assorted Mini Turrones Net.Wt 500 Gr
Indulge in the authentic taste of Spain with El Almendro's Assorted Mini Turrones, a gourmet collection of traditional Spanish nougat treats that have been enchanting palates for centuries.
This exquisite 500g assortment features a delightful mix of five unique flavors, each mini Turrón offering its own irresistible blend of textures and tastes, making it the perfect gift or indulgent treat for any occasion.
Crunchy Almond Turron - Turron Duro: Discover the robust flavor and satisfying crunch of the Turron Duro, a timeless Spanish confection. This hard nougat is made from the finest almonds and honey, providing a classic crunch that is both delightful and addictively moreish.
Crunchy Almond Caramel - Turron Guirlache: Experience the delectable fusion of crunchy almonds encased in a rich, golden caramel. The Turron Guirlache is a nod to Spanish artisanal craftsmanship, offering a crunchy texture complemented by a deep, buttery caramel taste.
Soft Almond Turron Praline - Praline Almendra: Savor the delicate softness of Praline Almendra. This soft almond Turrón praline combines the gentle sweetness of almonds with a smooth, velvety finish, creating a melt-in-your-mouth experience that's simply unparalleled.
Chocolate Truffle Praline - Praline Trufa: Dive into the luxurious depth of the Chocolate Truffle Praline. This mini Turrón variety blends rich, creamy chocolate with the refined texture of praline, offering a sophisticated chocolate experience that's sure to please the most discerning chocolate aficionados.
Hazelnut Cream Praline - Praline Avellana: Enjoy the lush, creamy embrace of Hazelnut Cream Praline. With its silky blend of premium hazelnuts and smooth cream, this flavor offers a delicate balance of nutty and sweet notes, resulting in a delectable treat that's both comforting and upscale.
El Almendro's Assorted Mini Turrones are crafted using traditional methods and the highest quality ingredients, ensuring each bite is packed with flavor and heritage.
Ideal for sharing during the holidays, as a sweet companion to your coffee, or as a thoughtful present for those who appreciate fine Spanish confectionery.
Celebrate life's special moments with El Almendro Mini Turrones, where every nibble is a journey through Spain's sweetest traditions.
View full details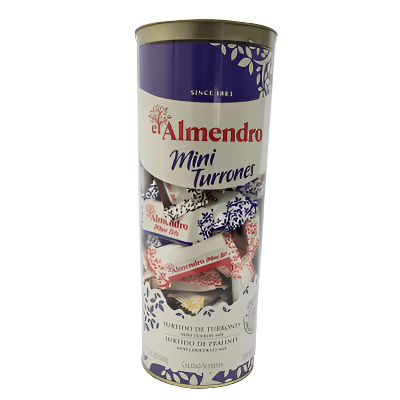 El Almendro Assorted Mini Turrones Net.Wt 500 Gr