Sku:

SP6325

Vendor: Amigo Foods Store
El Almendro Figuritas de Mazapan Net.Wt 7.05 oz
Indulge in the exquisite taste of Spain with El Almendro Figuritas de Mazapan, the authentic marzipan treat that embodies the rich culinary heritage of Spanish confectionery.
This 7.05 oz pack of delicately crafted marzipan figures is a perfect representation of tradition and flavor, a must-have for any gourmet enthusiast or anyone looking to explore the sweet side of Spanish culture.
Key Features:
Authentic Spanish Recipe - Made following a traditional recipe, these marzipan figuritas are a true taste of Spain, delivering a unique, almond-rich flavor that has been cherished across generations.

Finest Quality Ingredients - El Almendro uses only the finest almonds to create a smooth, melt-in-your-mouth texture that distinguishes these marzipan figures from the rest.

Perfectly Portioned - At 7.05 oz, this pack is ideal for sharing with family and friends during festive seasons or as a sophisticated treat alongside a cup of coffee or tea.

Versatile Use - Not only are these marzipan figures perfect for snacking, but they also make a beautiful decoration for cakes and pastries, adding a touch of elegance to your baking creations.

Attractive Packaging - The beautifully designed packaging reflects the quality of the product inside and makes it an excellent gift for any occasion, from Christmas to birthdays, or simply as a token of appreciation for the confectionery aficionado in your life.
Whether you're creating holiday baskets, looking for the perfect edible gift, or simply treating yourself, El Almendro Figuritas de Mazapan is an unmatched choice.
Experience the joy of Spanish sweet traditions in every bite and let the flavors of El Almendro's finest marzipan transport you to the sunny landscapes of Spain.
Add this delicacy to your cart today and savor the sweet essence of Spanish craftsmanship!
View full details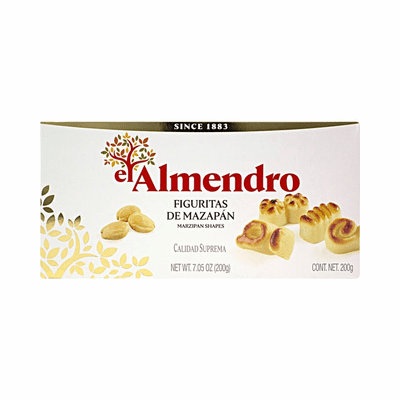 El Almendro Figuritas de Mazapan Net.Wt 7.05 oz