Sku:

SP8569

Vendor: Dona Jimena
Dona Jimena Pastas De Espana (Assorted Spanish Delights) Decorative Can Net.Wt 10.6 oz
Discover the true essence of Spain with the exquisite Doña Jimena Pastas De España in their luxurious decorative can, net weight 10.6 oz. This delightful assortment of Spanish treats will transport you directly to the sun-drenched streets of Spain with every bite.
Key Features:
Authentic Flavors: Every bite of Doña Jimena Pastas De España is infused with authentic Spanish flavor. Crafted using the finest ingredients and following traditional recipes, these pastries are a delight that will make you feel like you're in the heart of Spain.

Irresistible Variety: This assortment includes individually wrapped sweet and crunchy almond biscuits that are made with wheat flour and ground almonds, lightly flavored with either crunchy almonds or cinnamon, and are very soft and powdery. Each piece is a masterpiece of Spanish pastry that will leave you craving for more. 

Elegant Presentation: The decorative can that houses these Pastas De España is a true tribute to Spanish craftsmanship. With intricate details and vibrant colors, it's the perfect gift for lovers of Spanish culture or a beautiful addition to your gourmet sweets collection.

Share the Joy: Want to impress your guests or enjoy a special moment with your family? Doña Jimena Pastas De España are ideal for any occasion. Pair your special moments with these exquisite Spanish treats.

Unmatched Quality: Doña Jimena takes pride in producing high-quality products that honor Spanish culinary traditions. Each pastry is carefully crafted to ensure freshness and exceptional flavor in every bite.
Experience the culinary richness of Spain with Doña Jimena Pastas De España. This luxurious assortment is a delightful experience that awakens the senses and satisfies the most discerning cravings. Whether as a gift or a treat for yourself, these pastries are a sensory journey you won't want to miss. Order them today and immerse yourself in authentic Spanish delight!
View full details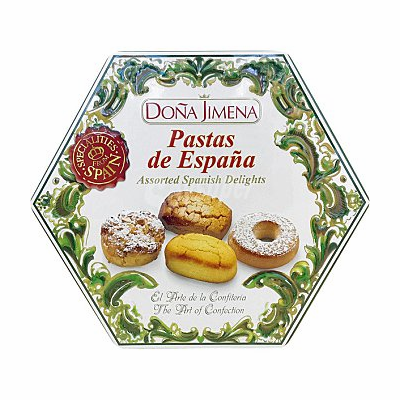 Dona Jimena Pastas De Espana (Assorted Spanish Delights) Decorative Can Net.Wt 10.6 oz