Sku:

SP8545

Vendor: Dona Jimena
Dona Jimena Mini Mantecados ( Mini Almond Crumble Cakes) Net.Wt 8.8 oz
Introducing Dona Jimena Mini Mantecados - Exquisite Spanish Almond Crumble Cakes!
Indulge in the delightful flavors of Spain with Dona Jimena Mini Mantecados. These mini almond crumble cakes are a true culinary masterpiece that will transport your taste buds to the heart of Spanish cuisine.
Each bite is a harmonious blend of rich almonds and sweet crumbly goodness that will leave you craving for more.
Key Features:
Authentic Spanish Delicacy: Dona Jimena Mini Mantecados are a cherished tradition in Spanish households, made with love and care to capture the essence of Spanish baking.

Premium Ingredients: Crafted using the finest quality almonds, flour, sugar, and a touch of traditional Spanish spices, these mini mantecados are a testament to Dona Jimena's commitment to excellence.

Irresistible Texture: These mini almond crumble cakes strike the perfect balance between soft and crumbly. The moment you sink your teeth into one, you'll experience a satisfying, melt-in-your-mouth sensation.

Perfectly Sized: Each package contains a generous 8.8 ounces (250 grams) of these mini delights, making them the ideal size for snacking, sharing, or gifting.

Versatile Treat: Enjoy them with your morning coffee or tea, as an after-dinner dessert, or simply as a delightful anytime snack. Dona Jimena Mini Mantecados are the perfect treat for any occasion.

Sealed Freshness: The individual packaging ensures that these delectable mini mantecados stay fresh and flavorful, preserving their authentic Spanish taste.
Experience the taste of Spain with every bite of Dona Jimena Mini Mantecados.
Whether you're a connoisseur of Spanish cuisine or a newcomer to these delightful treats, you're sure to be captivated by their irresistible flavor and texture.
Order yours today and savor the essence of Spain in every crumb!
View full details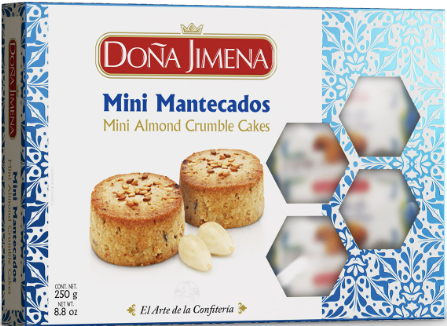 Dona Jimena Mini Mantecados ( Mini Almond Crumble Cakes) Net.Wt 8.8 oz