Sku:

S841

Vendor: Amigo Foods Store
Dona Jimena Hojaldres (Puff Pastries) Net.Wt 3.5 oz
Immerse yourself in the indulgence of Dona Jimena Hojaldres (Puff Pastries) and discover the unparalleled taste of Spanish tradition in every bite. With a net weight of 3.5 oz, these puff pastries are the perfect choice to satisfy your cravings for a sweet treat with a touch of elegance.
Dona Jimena hojaldres are carefully crafted with the highest-quality ingredients, following centuries-old recipes that have been passed down from generation to generation. The result is a blend of crispy, delicate pastry that melts in your mouth with each bite.
Each package of Dona Jimena Hojaldres contains just the right amount of sweetness, with an orange filling that is a delight to the palate. These puff pastries are ideal for accompanying your morning coffee, enjoying as a dessert, or simply indulging yourself when you need something sweet.
The 3.5 oz presentation is perfect for taking them with you anywhere and sharing with friends and family. Whether you serve them at a special gathering or keep them for those moments of personal indulgence, Dona Jimena Hojaldres are sure to become your favorite pastries.
Enrich your moments with the authentic taste of Spain. Purchase your Dona Jimena Hojaldres (Puff Pastries) today and discover why they are a treasure of Spanish pastry!
View full details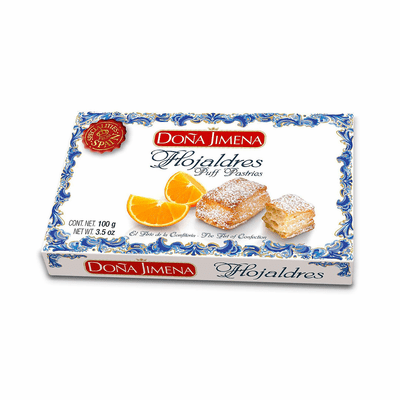 Dona Jimena Hojaldres (Puff Pastries) Net.Wt 3.5 oz