Sku:

SP998122

Vendor: Dona Jimena
Doña Jimena Surtido de Chocolates 200 grs.
Doña Jimena Surtido de Chocolates 200 grs. - A Spanish Delight!
Indulge in the exquisite world of Spanish Pralines with Doña Jimena's Surtido de Chocolates, a delightful assortment of premium chocolate pralines crafted to perfection. Made with love and expertise, this 200-gram selection promises an unforgettable journey through the rich flavors and textures of Spain.
Key Features:
Authentic Spanish Flavors: Doña Jimena's chocolate pralines are a true representation of Spanish confectionery traditions. Savor the taste of Spain in every bite.

A Symphony of Flavors: This deluxe assortment of Spanish pralines brings together a harmonious blend of flavors, each with its unique character. It includes chocolate orange pralines, rice pudding pralines, cafe mocha pralines, rum raisin pralines and chocolate coconut pralines, there's a treat for every palate.

Premium Quality: Doña Jimena takes pride in sourcing the finest ingredients. Each praline is a testament to their commitment to excellence.

Perfect for Gifting: Whether you're looking for a thoughtful gift for a loved one or a delicious treat for yourself, Doña Jimena's Surtido de Chocolates is the perfect choice. Its elegant packaging makes it a delightful gift for any occasion.

Share the Joy: These pralines are ideal for sharing with friends and family, elevating any gathering or celebration with a touch of Spanish sophistication.

Convenient Size: The 200-gram packaging is just right for satisfying your  cravings without overwhelming your senses.
Experience the magic of Spain's heritage with Doña Jimena Surtido de Chocolates. Whether you're a connoisseur of fine pralines or simply seeking a taste of Spain's sweet traditions, these are sure to delight your senses and transport you to the heart of Spain. Don't miss out on this opportunity to indulge in the finest Spanish treats. Order yours today and savor the sweet moments!
View full details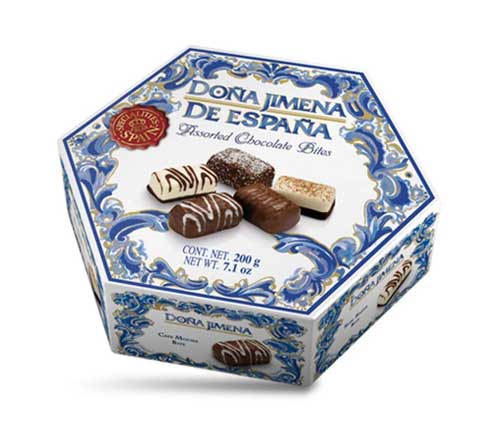 Doña Jimena Surtido de Chocolates 200 grs.