Sku:
Vendor: Amigo Foods Store
Doña Jimena Bombones Trufados 3.5oz
Doña Jimena Bombones Trufados 3.5oz - Decadent Spanish Truffle Chocolates
Experience pure indulgence with Doña Jimena Bombones Trufados, a delectable treat that will transport your taste buds to the heart of Spain. These 3.5oz truffle bonbons are a true delicacy, meticulously crafted to perfection. Each bite is a symphony of rich flavors and smooth textures that will leave you craving for more.
Key Features:
Premium Ingredients: Made with the finest ingredients, Doña Jimena Bombones Trufados are a testament to quality and excellence. They use only the best chocolate and truffle ganache to create a luxurious taste sensation.

Rich and Velvety: The velvety truffle filling inside each chocolate is a true masterpiece. It's the perfect balance of creamy, indulgent goodness, and the outer chocolate shell adds a satisfying crunch to every bite.

Spanish Tradition: Doña Jimena is a trusted name in Spanish confectionery, and these Bombones Trufados are a true representation of the country's sweet traditions. They make for a delightful gift or a special treat for yourself.

Perfect for Any Occasion: Whether you're celebrating a special moment, sharing with loved ones, or simply craving a moment of sweet bliss, Doña Jimena Bombones Trufados are the ideal choice.

Convenient Size: This 3.5oz package is just the right size for enjoying on your own or sharing with friends and family. It's also great for on-the-go snacking when you need a little pick-me-up during the day or also perfect for gifting. The elegant and attractive packaging makes it an ideal present for Christmas, birthdays, anniversaries, parties, and other special occasions.

Sealed Freshness: Each box is sealed to lock in the freshness, ensuring that you enjoy the same exquisite taste and texture with every chocolate.
Don't miss the opportunity to savor the luxurious taste of Doña Jimena Bombones Trufados. Indulge in the essence of Spanish chocolate craftsmanship and elevate your chocolate experience. Order yours today and let your taste buds embark on a delightful journey through the flavors of Spain!
View full details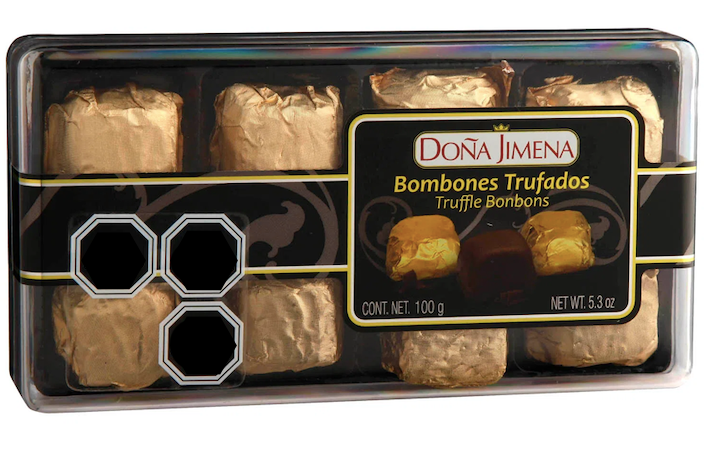 Doña Jimena Bombones Trufados 3.5oz