Sku:

S887443

Vendor: Amigo Foods Store
Dona Jimena Assorted Bonbons Net Wt. 5.3 Oz
Discover the exquisite taste of Dona Jimena Assorted Bonbons! These irresistible assorted bonbons are the perfect gift for any occasion or a delightful indulgence for yourself. This assortment of bonbons is a dream come true for chocolate and candy lovers.
Key Features:
Variety of Flavors: Dona Jimena bonbons are carefully selected to provide you with a range of flavors that will delight your palate. From avellana (hazelnut), café (coffee) & chocolate mousse, each bite is a unique experience.

Gourmet Quality: Dona Jimena takes pride in using the finest ingredients to create these high-quality bonbons. Each piece is crafted with care and attention to detail to ensure an unparalleled taste.

Elegant Presentation: This assortment of bonbons comes in a 5.3-ounce package that is not only convenient for on-the-go snacking but also perfect for gifting. The elegant and attractive packaging makes it an ideal present for birthdays, anniversaries, parties, and other special occasions.

Spanish Heritage: Dona Jimena is a Spanish brand with a long tradition of creating gourmet delights. Each bonbon reflects the passion for cooking and the sweet flavors of Spain.
Don't miss the opportunity to savor the perfect blend of flavors and textures offered by Dona Jimena Assorted Bonbons. Surprise your loved ones or treat yourself to these high-quality gourmet bonbons. Order now and experience the pleasure of each bite!
View full details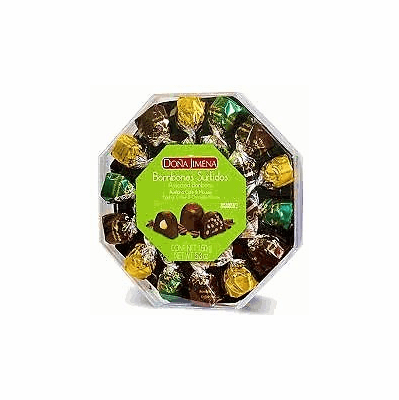 Dona Jimena Assorted Bonbons Net Wt. 5.3 Oz