Sku:

DR0102

Vendor: Amigo Foods Store
Dominican's Taste of Home Gift Basket
Taste the Flavors of the Dominican Republic
Celebrate Dominican Style
Make the holidays or any special event a truly memorable one by giving someone you love this Dominican holiday gift basket with all the best the Dominican Republic has to offer.
Includes one each of the following;
Baldom Sazon liquido - 16 oz. bottle
Casabi Crackers (galletitas de casabe) - 10.7 oz.
La Lechera Flan de leche - 155 grs.
Baldom Oregano dominicano - 3.2 oz.
Siboney Vainilla negra dominicana - 8 oz.
Panca CAramelos de frutas - 11 oz.
Goya Habichuelas rojas dominicanas - 15 oz. can
Baldom Ajo en pasta - 226 grs.
Cafe Santo Domingo - 16 oz.
Rodriguez dulce de leche con coco - 10 oz.
Siboney Leche de coco - 13 oz. can
Siboney Cajuiles en almibar - 20 oz.
Guarina Galletas de leche - 8 oz.
Oli Gelatina assorted flavors (pina/fresa/naranja) - 3 oz. box 1 each
Tigerbrau Extracto de malta - 12 oz.
Goya Gandures con coco - 15 oz. can
Guarina Galletas de soda - 7 oz. package
*If an item is out of stock, we may substitute products of equal or greater quality from those listed above.
View full details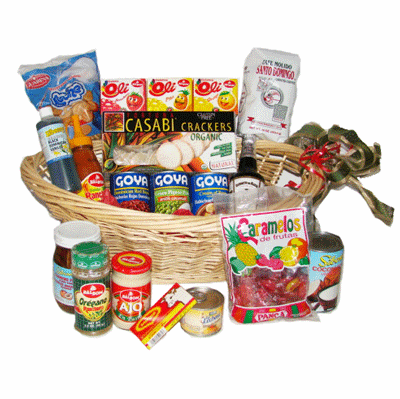 Dominican's Taste of Home Gift Basket