Sku:

CO7702097066480

Vendor: Colombina
Colombina Dulce de Leche Mini Arequipe (Milk Caramel Spread ) 6 units 50g each
Savor the taste of Colombia with Colombina Dulce de Leche Mini Arequipe, a luxurious milk caramel spread that promises to elevate your snacking experience.
This pack contains 6 convenient travel cups, each filled with 50g of luscious Dulce de Leche, making it perfect for on-the-go indulgence.
Key Features:
Authentic Colombian Flavor: Each cup is a testament to the rich culinary traditions of Colombia, offering an authentic Dulce de Leche experience.
Versatile Use: Whether you're dipping fruits, spreading on cookies, or drizzling over ice cream, Colombina Dulce de Leche adds a creamy, caramel twist to any treat.
Perfect Portion Size: The 50g travel cups are just the right size for a satisfying treat without overindulgence.
Quality Ingredients: Made with premium ingredients, ensuring a high-quality, delicious experience in every spoonful.
How to Enjoy: Unleash your culinary creativity with Colombina Dulce de Leche Mini Arequipe! Try it as:
A dip for fresh fruits like apples or bananas.
A topping for pancakes, waffles, or toast.
A mix-in for your morning oatmeal or yogurt.
A delicious filling for pastries or crepes.
An exquisite ice cream topping for an extra special treat.
Why Choose Colombina Dulce de Leche Mini Arequipe?
Whether you're a gourmet chef or simply a lover of sweet treats, Colombina Dulce de Leche is a must-have in your pantry.
Perfect for sharing, gifting, or indulging on your own, it's a delightful way to add a touch of sweetness to your day!
Order Now and Dive into the Decadent World of Colombina Dulce de Leche Mini Arequipe - Your Gateway to Sweet Colombian Indulgence!
View full details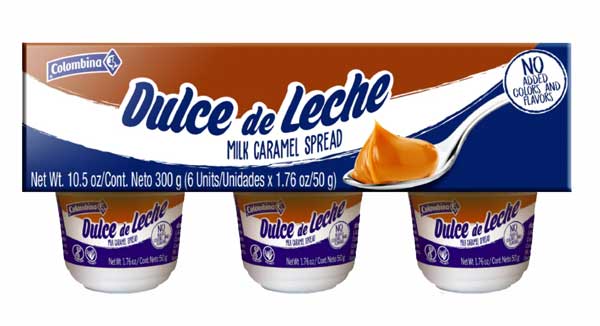 Colombina Dulce de Leche Mini Arequipe (Milk Caramel Spread ) 6 units 50g each