Sku:

CO7702097230119

Vendor: Colombina
Colombina Dulce de Leche Arequipe (Caramel Milk Spread) 500g
Enjoy the rich, creamy delight of Colombina Dulce de Leche Arequipe, a luxurious caramel milk spread that promises to elevate your taste experiences. This 500g plastic container of authentic Colombian indulgence is a versatile culinary gem, perfect for those who adore the sweet, buttery flavors of caramel.
Crafted with the finest ingredients, Colombina's Dulce de Leche is a testament to the culinary heritage of Colombia. Its smooth, velvety texture and deep caramel flavor make it an irresistible treat for all ages.
Whether you're spreading it on warm toast, drizzling it over pancakes, or using it as a sumptuous ice cream topping, this caramel milk spread is guaranteed to add a touch of decadence to any dessert.
Dulce de Leche or Arequipe is not just a spread; it's a culinary adventure. Its consistency is perfect for fruit dipping, transforming ordinary fruits into exotic, caramel-dipped delights.
Imagine dipping fresh strawberries, apple slices, or bananas into this luscious spread, creating a harmony of flavors that dance on your palate.
For cookie lovers, this spread adds a new dimension of flavor. Spread it over cookies or sandwich between two for a heavenly treat. Its rich caramel flavor complements a variety of cookies, from classic chocolate chip to nutty oatmeal.
And for those hot summer days, elevate your ice cream experience by adding a spoonful of Colombina Dulce de Leche on top. It pairs wonderfully with vanilla, chocolate, or even fruity ice cream, adding a creamy, caramel twist that is both refreshing and satisfying.
Don't wait to experience the blissful taste of Colombina Dulce de Leche Arequipe.
Order now and transform your desserts into luxurious treats with this exquisite caramel milk spread, straight from the heart of Colombia.
View full details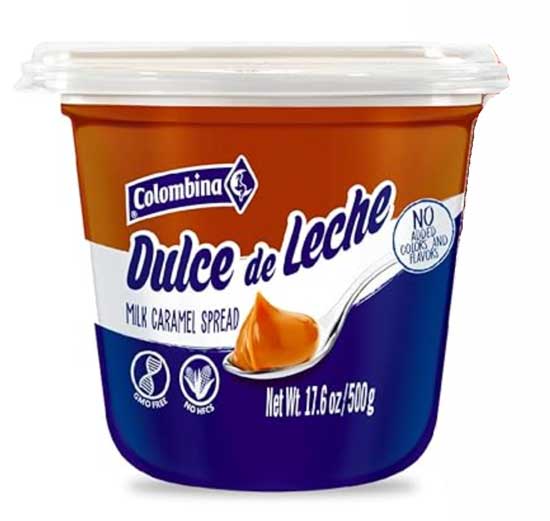 Colombina Dulce de Leche Arequipe (Caramel Milk Spread) 500g