Sku:

CO99182

Vendor: Amigo Foods Store
Colombia's Taste of Home Gift Basket
Taste the Flavors of Colombia
Celebrate Colombian Style
Make the holidays or any special event a truly memorable one by giving someone you love this Colombian holiday gift basket with all the best Colombia has to offer.
Includes one each of the following;
Lucerna Turron de Cacahuete 12.7 oz.
Alpina Dulce de Leche 220 grs.
Luker Chocolate Dulce 17 oz.
Sello Rojo Cafe de Colombia 250 grs.
Colombina Delight Caramelos de Cafe (50 candies)
Sumaiz Bunuelos Tradicion Colombiana 14 oz.
Sumaiz Natilla con Panela 14 oz.
Dux Galletas de Soda 16 oz.
Doña Arepa Harina de Maiz Precocida Blanca 1 kg
Del Frutal Bocadillo Veleno 510 grs.
Kiskas Guascas Sobre de 10 grs.
Mayte Rollitos de Guayaba con Arequipe 12 oz.
Colombina Surtido de Galletas Navideñas 240 grs.
Triguisar Condimento 2.4 oz.
*If an item is out of stock, we may substitute products of equal or greater quality from those listed above.
View full details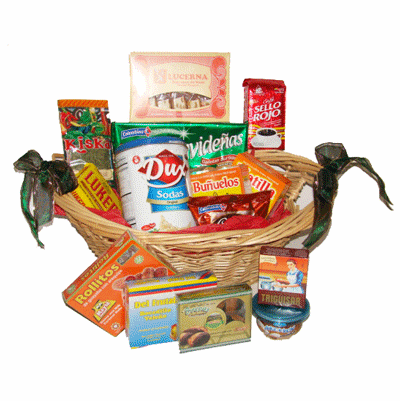 Colombia's Taste of Home Gift Basket