Sku:

221300

Vendor: Amigo Foods Store
Cima Sidra Asturiana (Contenido Alcoholico Menos de .5% por Vol) 23 oz.
Cima Sidra Asturiana: Authentic Spanish Craft Cider with Less than 0.5% Alcohol by Volume - 23 oz.
Elevate your beverage experience with Cima Sidra Asturiana, a delightful and refreshing Spanish cider that embodies the rich cider-making tradition of Asturias. Crafted with precision and care, this exceptional cider is known for its crisp and vibrant taste, all while boasting an alcohol content of less than 0.5% by volume.
Key Features:
Asturian Excellence: Cima Sidra Asturiana is a true testament to the excellence of Asturian cider-making. With a history dating back centuries, this region in northern Spain is renowned for producing some of the finest ciders in the world.

Crisp and Refreshing: Experience the invigorating burst of apple flavor with every sip. Cima Sidra Asturiana offers a crisp and refreshing taste that is perfect for any occasion.

Low Alcohol Content: With an alcohol content of less than 0.5% by volume, this cider allows you to enjoy its unique flavor profile without the worry of intoxication, making it a great choice for those looking for a non-alcoholic or low-alcohol alternative.

Versatile Enjoyment: Whether you're savoring it on its own or pairing it with a variety of dishes, Cima Sidra Asturiana complements a wide range of culinary experiences. From tapas to seafood, its versatility shines through.

Authenticity in a Bottle: Each bottle of Cima Sidra Asturiana encapsulates the essence of Asturian cider-making traditions. From the carefully selected apple varieties to the meticulous fermentation process, authenticity is at the heart of every sip.

Large 23 oz. Size: This generous 23 oz. bottle is perfect for sharing with friends and family, making it an ideal choice for gatherings and celebrations.
Elevate your taste buds and embrace the Asturian cider culture with Cima Sidra Asturiana. Whether you're sipping it on a sunny afternoon or enjoying it alongside your favorite Spanish dishes, this cider is a testament to the rich heritage and craftsmanship of the region. Order your bottle today and embark on a journey of flavor and tradition that will leave you wanting more. Salud!
View full details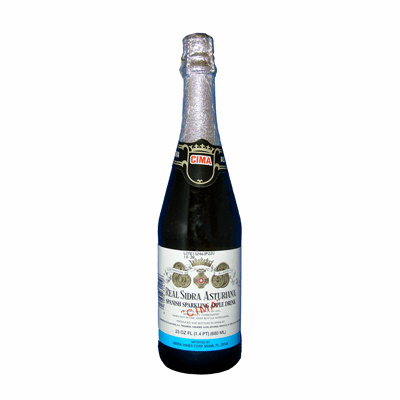 Cima Sidra Asturiana (Contenido Alcoholico Menos de .5% por Vol) 23 oz.