Sku:

CO505523

Vendor: Corona
Corona Chocolate Cloves and Cinnamon 17.6 oz (500g) Resealable Bag
Indulge in the symphony of exotic flavors with our Colombian Corona Chocolate Cloves & Cinnamon blend. Transport yourself to the heart of South America with every bite, as each morsel is crafted with passion and tradition.
Features:
Origin: Sourced from the finest cacao beans in the lush terrains of Colombia, known for their distinctive and rich chocolate flavors.

Flavor Profile: A harmonious blend of velvety chocolate, aromatic cloves, and the warming hint of cinnamon. A taste reminiscent of festive seasons and heartwarming memories.

Resealable Bag: Ensures freshness and potency of flavors. Whether you're on-the-go or sharing with friends, the easy-to-use zip-top ensures every serving is as fresh as the first.

Versatile Use: Perfect for baking, snacking, or melting into a luxurious hot chocolate drink. Its diverse flavor notes make it an excellent companion for various culinary adventures.
Tasting Notes:
Experience the initial richness of Colombian chocolate, followed by the spicy depth of cloves, and ending with a gentle warmth of cinnamon. A flavor journey that is both unique and mesmerizing.
Storage Instructions:
Store in a cool, dry place. Reseal bag after each use to retain freshness.
---
Experience the magic of Colombia, the warmth of spices, and the luxury of premium chocolate with Colombian Corona Chocolate Cloves & Cinnamon blend. Perfect for those moments when you crave a taste that's out of the ordinary.
View full details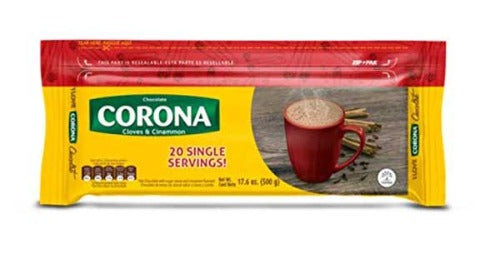 Corona Chocolate Cloves and Cinnamon 17.6 oz (500g) Resealable Bag