Sku:

PR85656800

Vendor: Peru Chef
The Peru Chef Chicha Morada (Purple Corn Beverage Mix) Net. Wt 4.02 oz
Experience the authentic taste of Peru with Peru Chef Chicha Morada Mix, available in a convenient 4.02 oz package. This traditional Peruvian beverage mix is crafted from the finest purple corn, delivering a unique and delightful sweetness that's loved by all ages.
Chicha Morada, a non-alcoholic drink, is perfect for savoring at any time of the day, all year round.
Peru Chef easy-to-prepare Peruvian purple corn beverage mix ensures you can enjoy this exotic treat with minimal effort. Just one package of Peru Chef Chicha Morada Mix yields an impressive 1 liter of refreshing drink, ideal for sharing with friends and family or for indulging by yourself.
Whether you're hosting a gathering, looking for a refreshing summer drink, or simply craving a taste of Peru, this chicha morada mix is the perfect choice.
Order today and dive into the rich, vibrant flavors of Peru with every sip. Not only is Peru Chef Chicha Morada Mix a delicious beverage, but it also brings a piece of Peruvian culture right to your home. 
View full details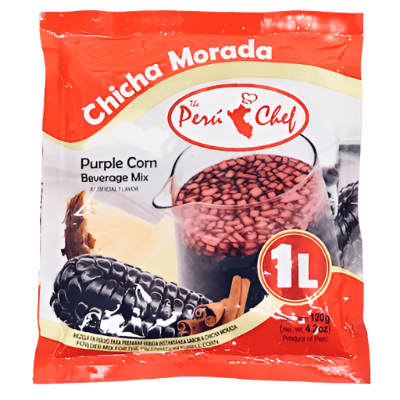 The Peru Chef Chicha Morada (Purple Corn Beverage Mix) Net. Wt 4.02 oz