Sku:

castillo-jijona-turron-nata-nueces

Vendor: Castillo de Jijona
Castillo de Jijona Turron Nata Nueces Calidad Suprema 7oz
Indulge in the luxurious taste of Spain with our Castillo de Jijona Turron Nata Nueces Calidad Suprema. This 7oz bar of creamy nougat is a sublime blend of smooth nata (cream), high-quality nuts, and the masterful confectionery traditions of Jijona, a town renowned for its turron craftsmanship.
Key Features:
Authentic Spanish Turron: Experience a slice of Spanish heritage with this authentic Jijona turron, a sweet testament to centuries-old Mediterranean confectionery practices.
Supreme Quality Ingredients: Crafted using only the finest selection of nuts and the richest cream, ensuring every bite is as luxurious as the last.
Exquisite Nata & Nut Combination: The creamy nata complements the crunchiness of the fresh nuts, creating a harmonious texture and flavor that's irresistible.
Perfectly Sized: In a convenient 7oz packaging, this turron is perfect for sharing or savoring alone during the holiday season or as a treat any time of the year.
Artisanal Craftsmanship: Made by skilled artisans at Castillo de Jijona, a name synonymous with quality and gourmet Spanish sweets.
Versatile Delicacy: Enjoy it as a dessert, pair it with a fine wine, crumble it over ice cream, or present it as a sophisticated gift.
Castillo de Jijona is not just a brand; it's a guarantee of authenticity and supreme quality. This Turron Nata Nueces is no exception, reflecting the commitment to excellence that has made Castillo de Jijona a household name in Spain and beyond.
Whether you're looking to enjoy a classic Spanish dessert, searching for the perfect festive treat, or aiming to impress your guests with a gourmet international experience, Castillo de Jijona Turron Nata Nueces is the ideal choice.
Order now and savor the taste of Spanish luxury with every bite.
View full details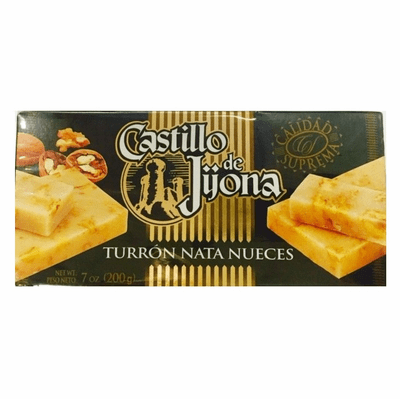 Castillo de Jijona Turron Nata Nueces Calidad Suprema 7oz