Sku:

SP4455

Vendor: Amigo Foods Store
Castillo de Jijona Turron Yema Calidad Suprema 200 grs. (7oz.)
Indulge in the luxurious taste of Spain with the Castillo de Jijona Turron Yema Calidad Suprema. A confectionery masterpiece from the heart of Spain, this 200-gram (7-ounce) bar is a celebration of tradition, flavor, and quality.
Crafted in Jijona, a town renowned for its artisanal sweets, the Castillo de Jijona Turron Yema is made following age-old recipes that have been passed down through generations. Each bar is a blend of finely-ground almonds, smooth, rich egg yolk, and a delicate balance of sugar, honey, and natural flavors that create a soft, nougat-like treat that melts in your mouth.
Key Features:
Authentic Spanish Turron: Savor the authentic taste of Spanish Turron, an essential part of any festive celebration or as a gourmet gift for those who appreciate fine, traditional sweets.

Supreme Quality Ingredients: The Turron Yema is made with premium almonds and high-quality egg yolk, ensuring a rich and satisfying taste experience with every bite.

Perfect Texture: The smooth, creamy texture of this Turron Yema sets it apart from other sweets. It's neither too hard nor too soft, making it an ideal companion for coffee or a glass of dessert wine.

Traditionally Made: Produced by the esteemed Castillo de Jijona, this turron stays true to the traditional methods of turron making, reflecting the heritage and culinary craftsmanship of Spain.

Beautifully Packaged: Encased in an elegant package, this turron is not just a treat for the palate but also a feast for the eyes. It makes an excellent gift for food enthusiasts and a lovely addition to any gourmet food basket.
Experience the best of Spanish confectionery with Castillo de Jijona Turron Yema Calidad Suprema. Made with the finest ingredients in the traditional town of Jijona, this premium turron is a harmonious blend of almonds, egg yolk, and honey.
Buy now to enjoy a classic Spanish treat with a supreme quality that promises a delightful culinary journey with each 200g (7oz.) serving.
Perfect for gifting, celebrations, or as a luxurious treat for yourself. Get a taste of Spain's rich dessert tradition with Castillo de Jijona's finest turron.
View full details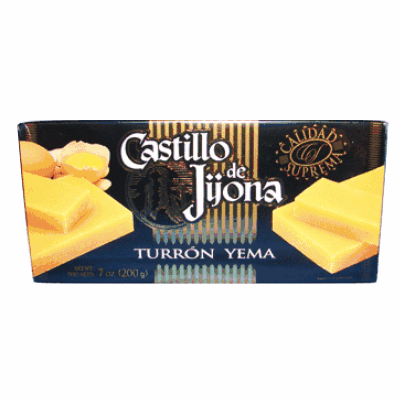 Castillo de Jijona Turron Yema Calidad Suprema 200 grs. (7oz.)