Sku:

SP0509

Vendor: Amigo Foods Store
Castillo de Jijona Turron de Alicante Calidad Suprema 200 grs. (7oz.)
Indulge in the rich heritage of Spanish confectionery with the Castillo de Jijona Turron de Alicante Calidad Suprema. This exquisite 200g (7oz.) bar of supreme quality Spanish nougat offers a taste of the traditional Christmas festivities in Spain, now available to sweeten your celebrations any time of the year.
Key Features:
Authentic Spanish Turron: Sourced directly from Jijona, a town renowned for its artisan nougat.
Calidad Suprema: This turron adheres to the highest quality standards, earning the "Calidad Suprema" distinction.
Traditional Recipe: Made with a time-honored blend of select almonds and honey for an unrivaled, authentic flavor.
Artisan Craftsmanship: Each bar is expertly crafted by artisans, following age-old techniques passed down through generations.
Perfect Texture: Experience the delightful contrast between the crunchy whole almonds and the crisp honeyed nougat.
Beautifully Packaged: Comes in premium packaging that reflects the quality of the product within, making it a perfect gift.
Savor the traditional taste of Spain with every bite of this delicious Castillo de Jijona Turron de Alicante.
Perfect for pairing with a cup of Spanish coffee or as a dessert after a hearty meal, this Spanish nougat is sure to transport you to the heart of Spanish culture.
Buy now and experience the authentic flavor of Spain's finest nougat!
View full details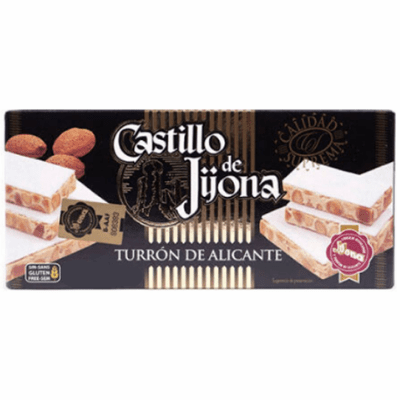 Castillo de Jijona Turron de Alicante Calidad Suprema 200 grs. (7oz.)