Sku:

SP7768

Vendor: Amigo Foods Store
Castillo de Jijona Turron Mazapan Fruta Calidad Suprema 200 grs. (7oz.)
Spanish Castillo de Jijona Turrón Mazapan Fruta Calidad Suprema - a delightful treat that's sure to delight your taste buds! This 200 gram (7oz.) package is filled with the finest quality nougat, proudly crafted in the picturesque town of Jijona, Spain.
This Turrón Mazapan Fruta is a true masterpiece of Spanish confectionery. Made with supreme care and attention to detail, this nougat embodies the rich culinary heritage of the region. It's the perfect blend of sweet and nutty flavors, with a delightful fruity twist that adds an extra layer of indulgence.
Each bite of this exquisite turrón takes you on a journey through the sun-drenched orchards of Spain, where only the freshest and most flavorful fruits are carefully selected for inclusion. The result is a harmonious blend of marzipan and fruit, expertly combined to create a taste sensation that's second to none.
Whether you're savoring it as a treat for yourself or sharing it with loved ones, the Castillo de Jijona Turrón Mazapan Fruta Calidad Suprema is a symbol of quality and tradition. Its 200-gram size is perfect for gifting or for indulging in a personal moment of pure pleasure.
This product is not just a sweet treat; it's a piece of Spanish culinary heritage. Indulge in the supreme quality and exquisite taste of Castillo de Jijona Turrón Mazapan Fruta, and experience the authentic flavors of Spain like never before. Order yours today and elevate your dessert game with this superb Spanish delicacy!
View full details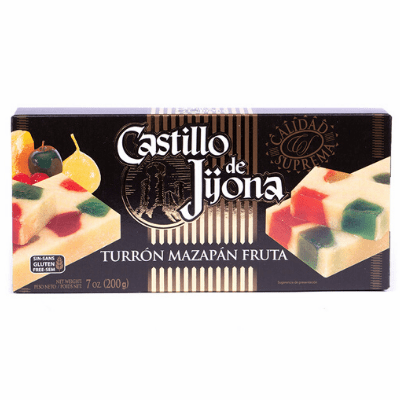 Castillo de Jijona Turron Mazapan Fruta Calidad Suprema 200 grs. (7oz.)