Sku:

SP05051

Vendor: Amigo Foods Store
Castillo de Jijona Turron de Jijona Calidad Suprema 200 grs. (7oz.)
Indulge in the luxurious taste of Spain with Castillo de Jijona's Turron de Jijona Calidad Suprema, a traditional Spanish nougat that promises to transport your senses to the festive streets of Jijona. This 200g (7oz.) bar is not just a sweet treat, but a slice of Spanish heritage crafted to perfection.
Premium Quality Ingredients: Our Turron de Jijona is made with the finest selection of ingredients that Spain has to offer. We blend high-quality almonds, harvested from the Mediterranean coast, with smooth and rich honey, sourced from local Spanish apiaries, to create a melt-in-your-mouth nougat that's both healthy and heavenly.
A Tradition of Excellence: Each bar of Castillo de Jijona Turron is a testament to centuries-old artisanal methods. Our 'Calidad Suprema' label guarantees that you are getting a product made following time-honored techniques that have been passed down through generations. This ensures a consistent, premium quality in every bite.
Soft Texture, Rich Flavor: Experience the soft and smooth texture that makes Turron de Jijona so distinct. Unlike its counterpart, Turron de Alicante, this nougat is known for its rich, creamy consistency that simply dissolves in your mouth, releasing a symphony of flavors that is both nutty and sweet.
Perfect for Celebrations: No Spanish celebration is complete without Turron de Jijona. Its festive red packaging makes it a staple for holidays, particularly Christmas. However, its timeless appeal makes it perfect for all occasions, whether as a gourmet gift, a complement to your cheese board, or a luxurious treat to enjoy with a glass of Spanish wine.
Easy to Share: The 200g (7oz.) bar is ideal for sharing, allowing you to bring a piece of Spanish joy to family gatherings, parties, or as a thoughtful gift to friends and colleagues who appreciate authentic, gourmet experiences.
Don't miss out on this delicious piece of Spanish craftsmanship. Add the Castillo de Jijona Turron de Jijona Calidad Suprema to your cart today and savor the authentic taste of Spain's most beloved Christmas confection. ¡Buen provecho!
View full details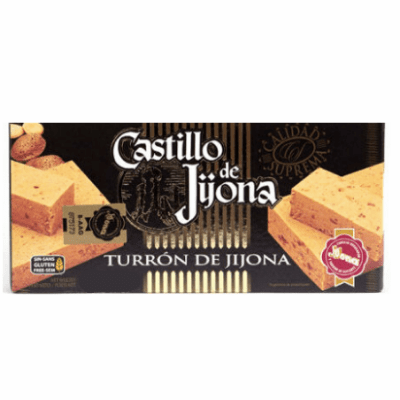 Castillo de Jijona Turron de Jijona Calidad Suprema 200 grs. (7oz.)