Sku:

SP8672

Vendor: Amigo Foods Store
Castillo de Jijona Turron de Coco Calidad Suprema 200 grs. (7oz.)
Indulge in the luxurious taste of Spain with the Castillo de Jijona Turron de Coco Calidad Suprema. Crafted with passion in the renowned region of Jijona, this 200-gram (7-ounce) bar of coconut nougat blends tradition with tropical flavor, delivering a gourmet experience that's both authentic and indulgent.
Key Features:
Authentic Spanish Heritage: Hailing from the heart of Jijona, Spain, a region famed for its artisanal turron, this delectable treat carries the essence of Spanish confectionery expertise.

Calidad Suprema (Supreme Quality): Only the finest ingredients make it into our Turron de Coco, ensuring a product that meets the 'Calidad Suprema' standard—a guarantee of unparalleled quality and taste.

Exotic Coconut Flavor: Each bite is infused with the rich, sweet taste of coconut, paired perfectly with our smooth, velvety nougat for a unique taste sensation.

Perfect for Celebrations: Whether it's Christmas, Easter, or any festivity, this turron de coco adds a touch of Spanish elegance to your celebrations, making it a perfect gift or a luxurious treat for yourself.
Experience the divine blend of sweet coconut and smooth nougat. Click 'Add to Cart' to bring home the sublime Spanish Castillo de Jijona Turron de Coco Calidad Suprema today!
View full details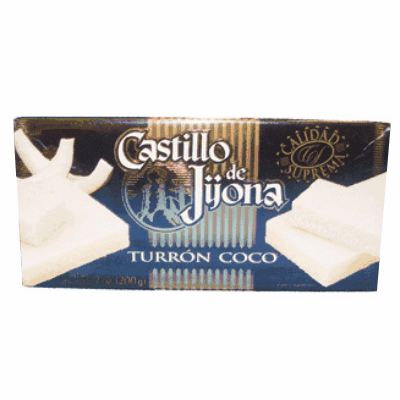 Castillo de Jijona Turron de Coco Calidad Suprema 200 grs. (7oz.)