Sku:

CO9881

Vendor: Amigo Foods Store
Castipan Bocadillo de Guayaba Tradicional 22 oz. 18 unidades)
Authentic Colombian Castipan Bocadillo de Guayaba Tradicional - 22 oz (18 unidades):
Indulge in the delightful flavors of Colombia with the traditional Castipan Bocadillo de Guayaba. Crafted with care and authenticity, this 22 oz pack contains 18 individual units of pure delight that will transport your taste buds straight to the heart of Colombia.
🌴 A Taste of Colombian Tradition: Bocadillo de Guayaba is a beloved Colombian delicacy that has been enjoyed for generations. Castipan Bocadillo captures the essence of this time-honored tradition, delivering an exquisite blend of rich guava and sugar, meticulously prepared to perfection.
🌞 Sun-Kissed Guava Goodness: Sourced from sun-kissed Colombian guava orchards, these bocadillos are made from the finest, ripe guavas. Each bite is a burst of tropical sunshine, offering a sweet and slightly tangy flavor profile that is truly unforgettable.
🏆 Quality You Can Trust: Castipan takes pride in crafting bocadillos with the utmost care and dedication.Their commitment to quality shines through in every bite. The 22 oz pack contains 18 individually wrapped units, making it perfect for sharing with friends and family or savoring as a personal treat.
🎉 Versatile and Satisfying: Whether you enjoy it as a quick snack, a sweet addition to your morning coffee, or as an ingredient in your favorite recipes, Castipan Bocadillo de Guayaba is incredibly versatile. Elevate your desserts, pastries, and snacks with the authentic taste of Colombia.
🇨🇴 A Taste of Colombia at Your Doorstep: No need to travel thousands of miles to experience the flavors of Colombia. With Castipan, you can savor the authentic taste of Colombian Bocadillo de Guayaba from the comfort of your home.
🎁 Perfect Gift: Looking for a unique and delicious gift? Castipan Bocadillo de Guayaba makes an excellent choice for anyone who appreciates fine food and the joy of exploring new flavors.
Bring the heart and soul of Colombia into your home with Castipan Bocadillo de Guayaba Tradicional. Order your 22 oz (18 unidades) pack today and embark on a flavorful journey to Colombia's culinary heritage!
View full details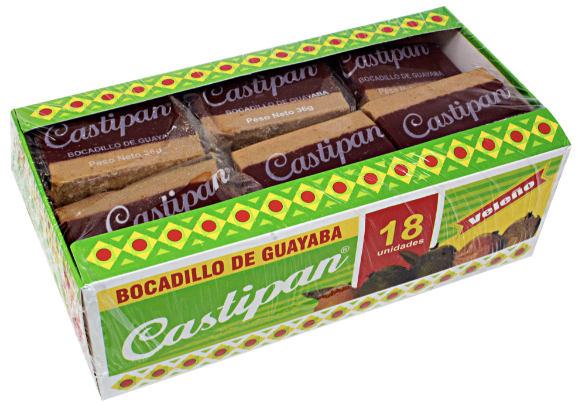 Castipan Bocadillo de Guayaba Tradicional 22 oz. 18 unidades)