Sku:

PU991021

Vendor: Belmont
Belmont Panettone 900 grs.
Indulge in the Rich Tradition of Peru with Belmont Paneton - 900g of Festive Delight!
Celebrate the flavors of Peru with authentic Belmont Paneton, the traditional Peruvian sweet bread that's become a global holiday sensation. Weighing in at a generous 900 grams, this Paneton is perfect for sharing the joy of the season.
Crafted with precision and care, each Belmont Paneton is a testament to the rich Peruvian baking heritage. The soft, brioche-like dough is dotted with a delectable mix of plump raisins and succulent candied fruits, offering a burst of sweetness in every bite.
Packaged in a convenient, eye-catching bag, Belmont Paneton is not only a treat for the taste buds but also for the eyes. It's an ideal gift for family, friends, or colleagues, bringing a taste of Peruvian festivity to any gathering.
Key Features:
Authentic Peruvian Recipe: Made with a traditional recipe that has been passed down through generations.
Generous Size: Each Paneton weighs 900 grams, enough to serve the whole family.
Rich Ingredients: Loaded with luscious raisins and candied fruits for that classic Paneton taste.
Convenient Packaging: Comes in a beautifully designed bag, ensuring freshness and making it perfect for gifting.
Whether you're looking to start a new holiday tradition or simply want to enjoy a slice of Peruvian culture, Belmont Paneton is the perfect choice. Add it to your cart today and savor the taste of Peru!
View full details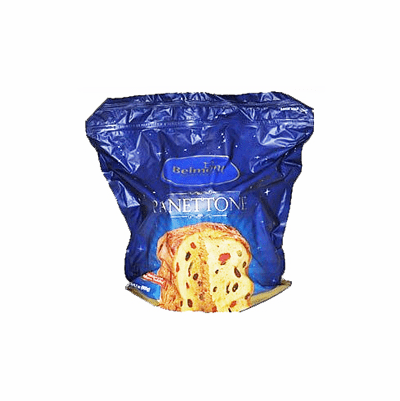 Belmont Panettone 900 grs.