Sku:

SP04133106087

Vendor: El Belen
El Belen Turron Blando de Mani (Peanut Soft Nougat) Box 5.3 oz - Supreme Quality - Spain
El Belen Turron Blando de Mani (Peanut Soft Nougat) - a delectable taste of Spain in every bite! Elevate your holiday season with this exquisite 5.3 oz box of Supreme Quality Turron Blando de Mani, a cherished Spanish delicacy.
Handcrafted with precision and passion, this soft nougat is a harmonious blend of creamy textures and rich flavors. Made from the finest peanuts, each bite is an indulgent experience that transports your taste buds straight to the heart of Spain.
Key Features:
🌟 Supreme Quality: El Belen Turron Blando de Mani is crafted to perfection, using only the highest quality ingredients to ensure a delightful taste sensation with every bite.
🌟 Traditional Spanish Delight: Immerse yourself in the rich tradition of Spanish nougat, a beloved treat that has been cherished for generations.
🌟 Festive Packaging: This 5.3 oz beautifully presented box contains just the right amount of Turron Blando de Mani to savor and share with loved ones during the holiday season. It comes elegantly packaged, making it an ideal gift for family, friends, or colleagues who appreciate the finer things in life.
🌟 Exquisite Flavor: The creamy peanut nougat boasts a delightful balance of sweetness and nuttiness, making it the perfect accompaniment to your festive celebrations.
Whether you're indulging in this delightful nougat as a personal treat or gifting it to someone special, El Belen Turron Blando de Mani is the epitome of Spanish culinary excellence. Add a touch of Spain to your holiday festivities with this exceptional peanut soft nougat.
Experience the supreme quality and flavor of Spain with El Belen Turron Blando de Mani. Order yours today and savor the taste of tradition in every bite!
View full details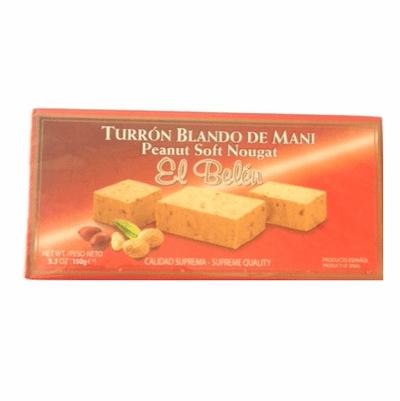 El Belen Turron Blando de Mani (Peanut Soft Nougat) Box 5.3 oz - Supreme Quality - Spain