Sku:
Vendor: Amigo Foods Store
Bauduuco Mini Vanilla Panettone 2.8 oz (80g)
Dive into the delicious world of Bauducco's Vanilla Mini Panettone—a Brazilian twist on a classic Italian delight. Meticulously crafted from an authentic Italian recipe but adapted with the warmth of Brazilian flavors, this luxurious, soft, and aromatic sweet bread brings the best of two culinary worlds to your table. Infused with rich and creamy vanilla notes, this mini panettone offers an unforgettable flavor journey, making every occasion special.
Key Features:
Italian Roots, Brazilian Soul: Bauducco has beautifully intertwined Italian baking traditions with the vibrant tastes and rhythms of Brazil, resulting in a panettone that's truly unique.

Premium Vanilla Flavor: Surrender to the fragrant aroma and rich taste of vanilla, masterfully blended into the tender texture of our renowned panettone.

Perfectly Portable: Sized for convenience, this mini panettone is your perfect companion for picnics, trips, or as a heartfelt gift, allowing you to spread the joy of Brazil and Italy wherever you go.

High-Quality Ingredients: Crafted using only the finest ingredients, with no artificial preservatives, every Bauducco mini panettone is a testament to quality and flavor.

Versatile Indulgence: Relish it as it is, toast for a warm treat, or team it up with spreads, ice creams, or fruits to create your dessert masterpiece.
Taste the Legacy: For over 60 years, the Bauducco family has bridged the traditions of Italy with the spirit of Brazil, creating baked delights that resonate with global palates. Be it a festive celebration or a moment of quiet indulgence, Bauducco's Vanilla Mini Panettone is the flavor-filled answer.
View full details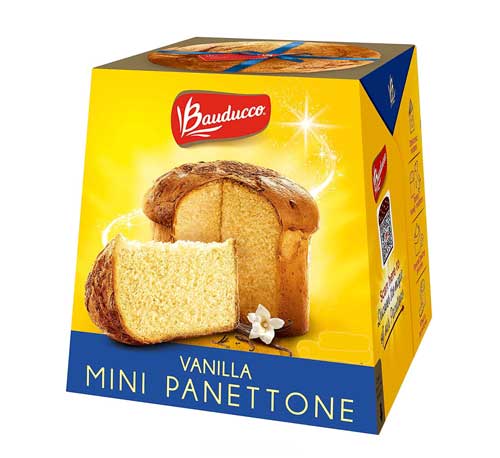 Bauduuco Mini Vanilla Panettone 2.8 oz (80g)