Sku:

960506

Vendor: Amigo Foods Store
Jose Garrigos Pan de Cádiz 8.75oz/250g
Jose Garrigos Pan de Cadiz 8.75oz/250g
Indulge your senses in the authentic flavors of Spain with Jose Garrigos Pan de Cadiz. This exquisite treat, weighing 8.75oz/250g, encapsulates the rich culinary heritage of Cadiz, a coastal gem nestled in the heart of Andalusia. Crafted with love and tradition, this delightful product is a true Spanish masterpiece.
Flavorful Ingredients: Jose Garrigos Pan de Cadiz is meticulously prepared using only the finest ingredients. It boasts a sumptuous blend of toasted almonds, succulent candied fruits, aromatic cinnamon, and sweet honey. Each bite is a harmonious symphony of flavors that dance on your palate.
Handcrafted Excellence: What sets Jose Garrigos Pan de Cádiz apart is the dedication to craftsmanship. Skilled artisans carefully layer each ingredient, creating a visual masterpiece that's as stunning as it is delicious. The result is a beautifully textured, visually captivating treat that's perfect for any occasion.
Authentic Spanish Tradition: This delectable Pan de Cádiz is steeped in centuries-old Spanish tradition. It embodies the spirit of Spanish cuisine, making it an ideal gift for loved ones or a delightful addition to your own culinary adventures. Share a slice of Spain with every bite.
Versatile Enjoyment: Whether you're savoring it with your morning coffee, pairing it with a glass of sherry, or enjoying it as a dessert, Jose Garrigos Pan de Cádiz adds a touch of Spanish elegance to any moment. Its 8.75oz/250g size ensures there's plenty to go around.
Seize the Taste of Spain: With Jose Garrigos Pan de Cádiz, you're not just savoring a treat; you're embarking on a journey to the heart of Spain. Let the flavors of Cádiz transport you to the sun-soaked streets and vibrant markets of this charming region.
A Gift from Spain: Looking for a thoughtful gift that captures the essence of Spain? Look no further. Jose Garrigos Pan de Cádiz makes for a memorable and unique present that's sure to be appreciated by anyone with a taste for the extraordinary.
Unlock the Essence of Cadiz: Jose Garrigos Pan de Cádiz 8.75oz/250g is your passport to the enchanting world of Cádiz, where tradition and flavor blend seamlessly. Don't miss out on this exquisite Spanish delight. Order yours today and savor the taste of Spain in every bite.
Experience the allure of Cádiz with Jose Garrigos Pan de Cadiz. Embrace the tradition, relish the flavors, and make every moment special with this remarkable Spanish treat.
*Gluten Free
View full details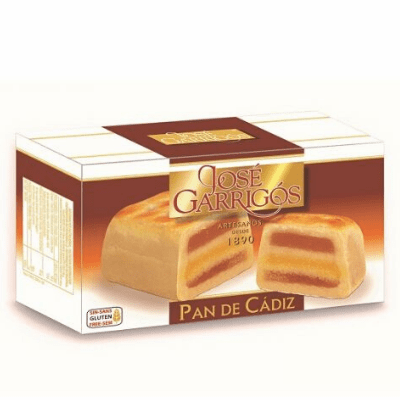 Jose Garrigos Pan de Cádiz 8.75oz/250g