Sku:

A78960

Vendor: Amigo Foods Store
Arcor Panettone Premium Sabor Goiabada Net Wt. 530 g
Indulge in the exquisite fusion of traditional Italian baking and tropical delight with Arcor's Premium Panettone in a tantalizing Guayaba (Guava) flavor. This 530g box of heaven is not just any bread; it's a festive celebration in every bite!
Key Features:
AUTHENTIC ITALIAN RECIPE: Crafted with the time-honored Italian panettone recipe, Arcor Premium Guava Panettone is baked to perfection, boasting a light, airy texture that melts in your mouth.
EXOTIC GUAVA FLAVOR: Infused with the sweet, aromatic essence of guava, this panettone brings a fresh and exotic twist to your holiday table, making it a delightful departure from the ordinary.
PREMIUM INGREDIENTS: Made with high-quality flour, real butter, and a generous amount of succulent guava pieces, every slice is rich, moist, and utterly irresistible.
PERFECTLY PACKAGED: Encased in an elegant box, the Arcor Panettone is as beautiful to look at as it is to taste, making it an excellent gift for the foodies in your life.
VERSATILE DELIGHT: Enjoy it toasted with a dollop of butter, paired with your favorite beverage, or as the base for a sumptuous bread pudding – the possibilities are endless!
Tasting Notes:
The Arcor Panettone with Guava Flavor isn't just a treat; it's an exotic journey. The sweetness of the guava pieces interspersed through the soft, bready texture provides a symphony of flavors that's both comforting and exciting. The tropical guava notes linger delightfully on the palate, ensuring that each bite is as memorable as the last.
Ideal Occasions:
Whether you're looking to enrich your holiday feast, searching for the perfect companion to your morning coffee, or wanting to surprise a loved one with a thoughtful and unique gift, Arcor Panettone with Guava Flavor is the perfect choice. It's also an ideal option for birthdays, anniversaries, or any occasion that calls for a touch of sweetness.
Add this aromatic Arcor Premium Panettone with Guava Flavor to your cart today and transport your taste buds to a tropical paradise with every decadent slice!
View full details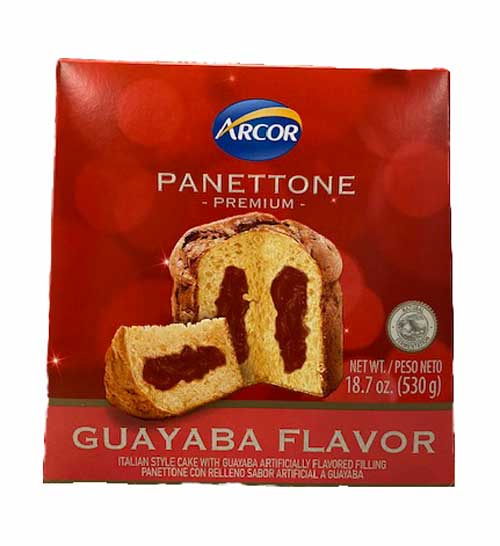 Arcor Panettone Premium Sabor Goiabada Net Wt. 530 g