Sku:

A675

Vendor: Amigo Foods Store
Arcor Assorted Fruitfuls 5 lbs.
Arcor Fruitful Candies
Indulge in the vibrant world of natural flavors with Arcor Fruitfuls. Every piece is a delightful journey of taste, carefully crafted to capture the essence of real fruits.Features:Authentic Flavors: Extracted from the best of orchards, each Fruitful carries the genuine taste of its source fruit. Whether it's the zesty tang of lemon or the lush sweetness of strawberries, find it all wrapped in these little treasures.Hard & Chewy Texture: The unique formulation gives Arcor Fruitfuls a hard exterior and a soft and chewy filling, ensuring a prolonged flavor experience with every bite.Naturally Vibrant: The radiant colors of Fruitfuls are derived naturally, making them as delightful to the eyes as they are to the palate.Quality Ingredients: Arcor ensures the use of premium ingredients, ensuring a healthier and richer flavor profile.Travel-friendly Packaging: Housed in a sleek, resealable pack, Arcor Fruitfuls are perfect for on-the-go snacking, making every moment a flavorful escape. Brighten up your day or surprise your loved ones with the fresh and delightful flavors of Arcor Fruitfuls. The true essence of fruit in every bite!
View full details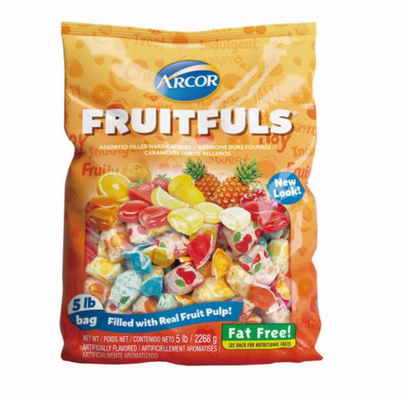 Arcor Assorted Fruitfuls 5 lbs.