Alpes Real Tropical Fruit Blackberry Pulp (Mora) Net.Wt 16 oz
Indulge in the authentic taste of the Colombian tropics with Alpes Real Tropical Fruit Blackberry Pulp (Mora). Harvested at peak ripeness, these blackberries are transformed into a luscious pulp, encapsulating the exotic flavors and vibrant essence of South America in every spoonful.
Features:
100% Natural: Made with genuine blackberries (mora) handpicked from Colombia's finest orchards.
Net Weight: Generous 16 oz. (1 lb) packaging ensures there's plenty to share, or to savor over multiple occasions.
Direct from Colombia: Imported directly from the heart of Colombia, offering you an authentic tropical experience.
Versatile Culinary Uses: Perfect for smoothies, desserts, ice creams, sauces, cocktails, or even as a standalone fruit snack.
Taste the Tradition:
Colombia's fertile valleys and unique climate conditions produce some of the world's best fruits. With Alpes Real Tropical Fruit Blackberry Pulp, you're not just enjoying a fruit pulp, but a taste of Colombian heritage and tradition.
Storage Instructions:
For optimal freshness, keep refrigerated after opening. Can be frozen for longer shelf life.
View full details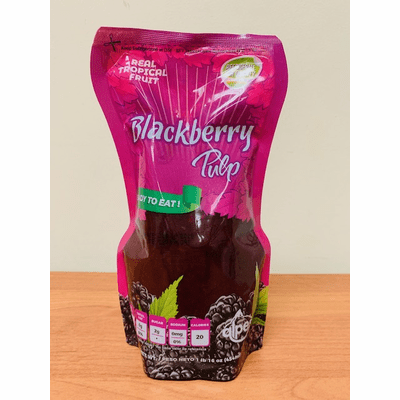 Alpes Real Tropical Fruit Blackberry Pulp (Mora) Net.Wt 16 oz