Sku:

tr04563572931

Vendor: Alpes
Pulpa de Maracuya ( Passion Fruit Pulp ) Refrigerate after open - Alpes Real Tropical Fruit Net Weight 1lb
Indulge in the exotic and tantalizing taste of the tropics with our Pulpa de Maracuya. Sourced from the lush landscapes of Colombia, this passion fruit pulp captures the essence of the real fruit in its purest form. It offers a burst of tart, tangy, and sweet flavors that can transport your senses straight to a tropical paradise.
Key Features:
100% Pure: Made from fresh, ripe passion fruits, ensuring that you get the genuine tropical flavor without any additives or artificial ingredients.
Net Weight: Generous 1lb packaging ensures you have ample pulp to experiment with various recipes or simply savor on its own.
Imported from Colombia: Colombia, known for its rich biodiversity, is home to some of the finest passion fruits in the world. We bring this authentic taste straight to your table.
Versatile Use: Perfect for a variety of dishes and beverages, from refreshing smoothies and cocktails to delectable desserts and savory sauces.
Refrigerate After Opening: To maintain the freshness and natural flavors, please refrigerate the pulp after opening.
Taste the Real Tropics:
Alpes Real Tropical Fruit is not just a product; it's an experience – a tropical escape you can enjoy anytime.
Elevate your culinary creations and beverage mixes or simply relish the pure, refreshing taste of the tropics. Dive into the world of Alpes and savor the real taste of passion fruit.
View full details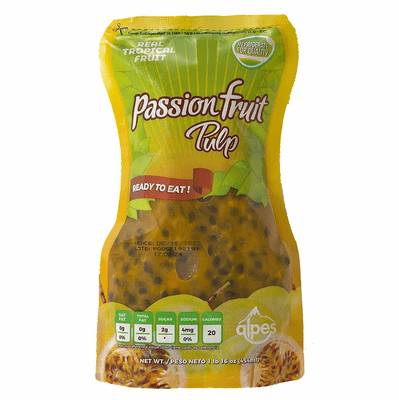 Pulpa de Maracuya ( Passion Fruit Pulp ) Refrigerate after open - Alpes Real Tropical Fruit Net Weight 1lb