Sku:

SP725711147218

Vendor: 1880
1880 Almendras Rellenas Almond Delights Supreme Quality 165 g (7 oz)
Discover the refined taste of the Mediterranean with 1880's Almendras Rellenas Almond Delights. Crafted with passion and dedication, these premium almond treats have stood the test of time, carrying with them the rich traditions of Spanish confectionery.
Features:
Supreme Quality Ingredients: 1880 Almendras Rellenas are made with the finest selection of almonds sourced directly from Spain.

Authentic Flavor: Experience the delicious harmony of soft almond paste nestled within a crisp almond shell, providing a textural symphony in every bite.

Tradition Meets Excellence: Produced by 1880, a brand renowned for its deep-rooted history and dedication to artisanal craftsmanship, ensuring that every piece is a bite of perfection.

Perfect for All Occasions: Whether you're hosting Christmas eve, looking for the ideal gift, or simply indulging yourself, our Almond Delights cater to all palates and moments.

Beautiful Packaging: Presented in an elegant box, reflecting the grandeur and tradition of the 1880 brand. The box design ensures that the delicacies inside are preserved at their best.
Serving Suggestions:
Pair with a cup of warm espresso or Spanish brandy to truly savor the rich flavors. Alternatively, incorporate them into your dessert platters for a touch of Spanish elegance.
Storage Instructions: Store in a cool, dry place away from direct sunlight.
Embrace the supreme quality and timeless tradition of 1880 with Almendras Rellenas Almond Delights. An experience of pure indulgence awaits.
Perfect to be shared at your Christmas table.

* Supreme Quality
View full details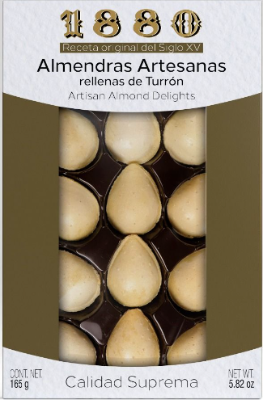 1880 Almendras Rellenas Almond Delights Supreme Quality 165 g (7 oz)