Sku:

PU8876

Vendor: Amigo Foods Store
Algarrobina PeruChef (Carob Syrup) 500 grs
Experience the rich, natural sweetness of Peru with our PeruChef Algarrobina, available in a generous 500-gram bottle.
Sourced directly from the heart of Peru, our Algarrobina is a 100% pure, unadulterated superfood known for its remarkable health benefits and delightful taste.
Renowned for its ability to naturally elevate hemoglobin levels, this Peruvian treasure is an excellent choice for those looking to boost their energy throughout the day.
Its unique, molasses-like consistency and rich flavor profile make it an exceptional natural sweetener, far surpassing ordinary syrups in both taste and nutritional value.
PeruChef Algarrobina is incredibly versatile. It's the perfect addition to a variety of dishes, enhancing fruit salads with its deep, caramel-like undertones, or blending seamlessly into juices and yogurts for a touch of natural sweetness. Its health benefits and delicious taste make it a must-have in any kitchen.
As a proud carrier of the PeruChef brand, this Algarrobina ensures quality and authenticity in every drop. It's not just a sweetener, but a journey into the heart of Peruvian culinary tradition.
Order your bottle today and discover the taste and health benefits of one of Peru's most cherished superfoods!
Key Features:
100% Pure Peruvian Algarrobina: Directly sourced for authenticity and quality.
Health Benefits: Naturally elevates hemoglobin and provides a sustained energy boost.
Versatile Use: Ideal for fruit salads, juices, and yogurts.
Rich Taste and Texture: Offers a molasses-like consistency with a deep, caramel flavor.
Quantity: Comes in a 500-gram bottle, ensuring you have plenty to enjoy.
View full details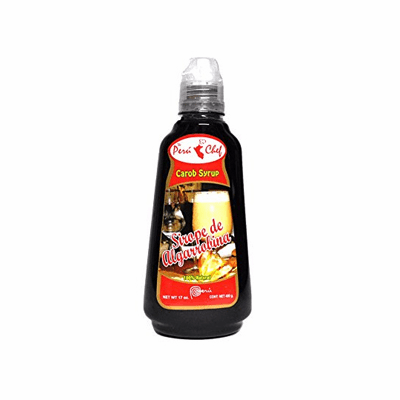 Algarrobina PeruChef (Carob Syrup) 500 grs