Sku:

360515

Vendor: Amigo Foods Store
Aceitunas de Botija Belmont 20 oz. Aceitunas Botija
Enjoy the rich flavors of ancient Peru with a 330g jar of Aceitunas de Botija. These traditional Peruvian olives are renowned for their unique taste and historical significance, being a part of Peruvian culture for centuries.
Features:
Authentic Origin: Sourced directly from the heart of Peru, these olives embody the deep traditions and rich taste that is unique to the region.

Distinctive Flavor Profile: Unlike your typical olive, Aceitunas de Botija boasts a complex palette of flavors - a mix of sweet, salty, and bitter, leaving an unforgettable aftertaste.

Nutrient-Rich: Packed with essential vitamins and antioxidants, these olives not only tantalize your taste buds but also offer numerous health benefits.

Versatile Usage: Whether you're looking to enjoy them straight from the jar, add to salads, or garnish your dishes, these olives complement a myriad of recipes.

Naturally Preserved: These Peruvian olives are cured using time-honored techniques, without the addition of any artificial preservatives.

Elegant Packaging: The 330g jar is not only functional but also aesthetically pleasing, making it a perfect gift for food connoisseurs.
Taste the legacy of Peruvian gastronomy and elevate your dishes with the unparalleled flavor of Aceitunas de Botija.
View full details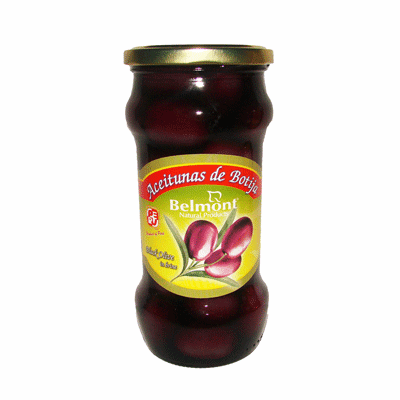 Aceitunas de Botija Belmont 20 oz. Aceitunas Botija