Sku:
Vendor: Amigo Foods Store
1880 Turrón de Chocolate Negro con Almendras 7 oz
Spanish 1880 Turrón de Chocolate Negro con Almendras 7oz - A Decadent Delight!
Discover the exquisite taste of Spain with 1880 Dark Chocolate with Almonds Turrón, a delectable treat that combines the rich flavors of dark chocolate and crunchy almonds. Crafted with the finest ingredients and traditional Spanish expertise, this 7oz bar of goodness is sure to delight your taste buds and elevate your snacking experience.
Key Features:
Premium Quality: Made by 1880, a trusted name in Spanish confectionery, this Turrón is crafted with the highest quality dark chocolate and roasted almonds for a truly indulgent experience.

Irresistible Flavor: Dive into the intense, bittersweet notes of dark chocolate perfectly complemented by the nutty goodness of almonds. Each bite is a symphony of flavors that dance on your palate.

Authentic Spanish Recipe: This Turrón embodies the authentic taste of Spain, prepared with a recipe that has been cherished for generations. It's a true taste of Spanish tradition.

Perfect Size: With a convenient 7 oz size, it's ideal for sharing with loved ones or savoring all to yourself. It's the perfect snack to satisfy your chocolate cravings.

Gift-Worthy Packaging: The Turrón comes elegantly packaged, making it a delightful gift for chocolate lovers or as a special treat for any occasion.
Indulge in the timeless charm of Spanish chocolate and almonds with our 1880 Turrón de Chocolate Negro con Almendras. Whether you're looking for a delicious snack or a thoughtful gift, this treat is sure to leave a lasting impression. Order yours today and experience the true taste of Spain!
Ideal nougat for true chocolatiers.
25% Almond and 70% Dark Chocolate. 
*Supreme quality
View full details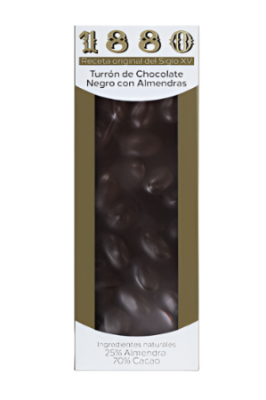 1880 Turrón de Chocolate Negro con Almendras 7 oz