Sku:

S72571111

Vendor: Amigo Foods Store
1880 Turrón de Chocolate con Almendras 70% Dark Chocolate Almond Bar 5.3 oz
Spanish 1880 Turrón de Chocolate con Almendras - a decadent delight for chocolate enthusiasts! Crafted with the finest ingredients, this 70% Dark Chocolate Almond Bar is an exquisite treat that will satisfy your cravings for rich, indulgent flavors.
Product Features:
Premium Quality: 1880 Turrón de Chocolate con Almendras is made by 1880, a renowned Spanish brand known for its commitment to quality and tradition. You can trust that you're indulging in the best.

Dark Chocolate Excellence: This turrón boasts a remarkable 70% dark chocolate content, delivering a deep and intense cocoa experience. The dark chocolate is perfectly balanced, offering a harmonious blend of sweetness and bitterness that chocolate aficionados adore.

Crunchy Almonds: Embedded within the luscious dark chocolate are generous portions of roasted almonds. These premium almonds add a delightful crunch and nutty flavor that complements the chocolate, creating a truly heavenly combination.

Ideal Size: Each bar comes in a convenient weight of 5.3 ounces, making it easy to savor as a delightful snack or share with friends and family during special occasions.

Traditional Spanish Delight: Turrón is a beloved Spanish confection, and this chocolate and almond variant pays homage to this time-honored tradition. It's perfect for experiencing a taste of Spain's culinary heritage.

Versatile Treat: Whether you're enjoying it as an after-dinner dessert, pairing it with your favorite wine, or simply savoring a piece during a relaxing moment, this chocolate almond bar is a versatile and delectable choice.

Gift-Worthy Packaging: The 1880 Turrón de Chocolate con Almendras is elegantly packaged, making it an excellent gift for chocolate enthusiasts, special occasions, or as a delightful surprise for your loved ones.
Indulge in the extraordinary flavors of Spain with the 1880 Turrón de Chocolate con Almendras. This exquisite dark chocolate almond bar is a true masterpiece, combining the richness of dark chocolate with the satisfying crunch of almonds. Treat yourself or someone special to a taste of Spain's culinary excellence today!
View full details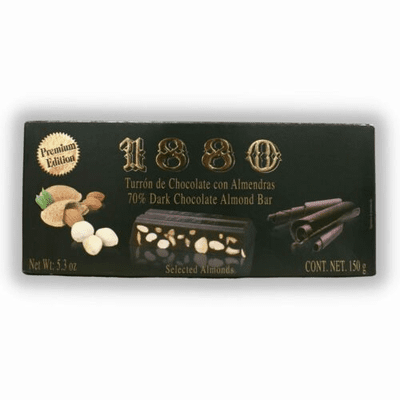 1880 Turrón de Chocolate con Almendras 70% Dark Chocolate Almond Bar 5.3 oz