Sku:

1880-turron-alicante

Vendor: 1880
1880 Turron Alicante 8.8 oz. (250g)
Spanish 1880 Turron Alicante 8.8 oz – A Classic Delight from Spain!
Indulge in the timeless flavors of Spain with our exquisite Spanish 1880 Turron Alicante. Crafted with precision and passion, this 8.8 oz delicacy is a true embodiment of Spanish culinary heritage.
Key Features:
Premium Quality: 1880 Turron Alicante is made with the finest ingredients, ensuring an authentic taste that captures the essence of Spain.
Traditional Recipe: This Turron follows a centuries-old recipe, faithfully preserving the rich traditions of Spanish confectionery.
Crunchy Almonds: Each bite is a delightful experience, as you savor the satisfying crunch of whole Spanish almonds.
Sweet Honey Bliss: The Turron is generously infused with sweet, orange blossom honey, adding a luscious sweetness that lingers on your palate.
Elegant Presentation: Packaged in an 8.8 oz box, it's perfect for gifting or savoring on your own.
Whether you're celebrating a special occasion or simply craving a taste of Spain, the 1880 Turron Alicante is the perfect choice. Its rich history and superior quality make it a delightful treat that's sure to impress. Elevate your snacking experience with this Spanish classic – order yours today! 
The star dessert of your Christmas table. Made with Blanched Whole Selected Spanish Almonds (67%), Orange blossom Honey and Eggwhite.
Transport yourself to the heart of Spain with every bite of the Spanish 1880 Turron Alicante. Don't miss out on this exquisite delicacy – order now and let your taste buds embark on a journey to Spain's culinary paradise!
*Supreme Quality
*Gluten Free
*2 Pre-cut Bars
View full details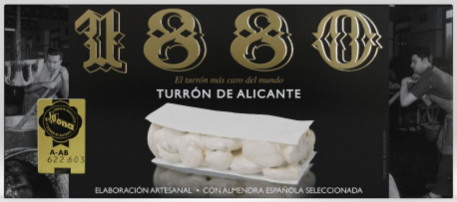 1880 Turron Alicante 8.8 oz. (250g)