Sku:

SP8410317182115

Vendor: 1880
1880 Tortitas Turron de Chocolate (Milk Chocolate Almond Mini Rounds) 120 grs
Spanish 1880 Tortitas Turron de Chocolate (Milk Chocolate Almond Mini Rounds) - 120 grs
Indulge in the exquisite flavors of Spain with 1880 Tortitas Turron de Chocolate. These delectable milk chocolate almond mini rounds are a true delight for your taste buds. Crafted with care and tradition, these Spanish treats offer a delightful combination of creamy milk chocolate and crunchy almonds, delivering a harmonious symphony of flavors with every bite.
Key Features:
Irresistible Milk Chocolate: 1880 Tortitas Turron de Chocolate feature a velvety milk chocolate coating that envelopes each mini round, providing a luxurious and creamy taste sensation.

Crunchy Almond Center: Inside each mini round, you'll discover a generous helping of premium almonds, roasted to perfection. The delightful crunch of almonds perfectly complements the smoothness of the chocolate.

Spanish Tradition: 1880 is a renowned Spanish brand known for its commitment to quality and tradition. These Tortitas Turron de Chocolate are a testament to their dedication to producing authentic Spanish delicacies.

Convenient Packaging: Each package contains 120 grams of these individually wrapped delightful mini rounds, making it easy to enjoy them as a quick snack or share them with friends and family.
Whether you're treating yourself to a moment of indulgence or looking for a unique gift to share, Spanish 1880 Tortitas Turron de Chocolate are the perfect choice. Their rich, chocolatey goodness and the satisfying crunch of almonds will transport your taste buds to the heart of Spain. Don't miss out on this delectable Spanish treat that combines tradition, quality, and irresistible flavor.
Order your 1880 Tortitas Turron de Chocolate today and savor a taste of Spain in every bite!
View full details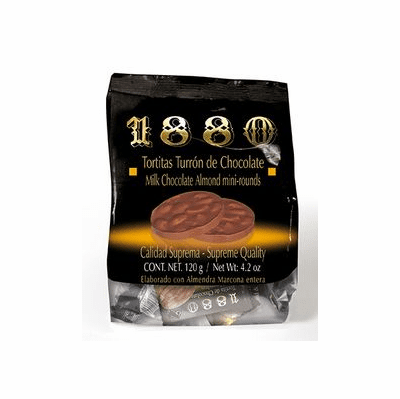 1880 Tortitas Turron de Chocolate (Milk Chocolate Almond Mini Rounds) 120 grs