Sku:

SP89623

Vendor: 1880
1880 Polvorones Artesanos De Almendra ( Almond Crumble Cake ) Net.Wt 310gr
Spanish 1880 Polvorones Artesanos De Almendra (Almond Crumble Cakes) - a delectable treat that will transport your taste buds straight to Spain! Made with the finest quality almonds and traditional craftsmanship, these exquisite almond crumble cakes are true masterpieces.
Experience the rich culinary heritage of Spain with 1880 Polvorones Artesanos De Almendra, almond crumble cakes that have been handcrafted to perfection. Each bite is a symphony of flavors and textures that will leave you craving for more.
Key Features:
Premium Ingredients: 1880 Polvorones Artesanos De Almendra are made using only the finest almonds, sourced from the heart of Spain. These almonds are carefully selected for their quality and flavor, ensuring a truly authentic taste experience.

Traditional Craftsmanship: These almond crumble cakes are made using traditional Spanish recipes and craftsmanship that have been passed down through generations. The result is a product that captures the essence of Spanish culinary tradition.

Irresistible Texture: The Polvorones Artesanos De Almendra boasts a crumbly, melt-in-your-mouth texture that is simply irresistible. Each bite is a delicate balance of sweetness and nuttiness, creating a harmonious flavor profile.

Perfect for Any Occasion: Whether you're indulging in a sweet treat for yourself or looking for a delightful gift, these almond crumble cakes are perfect for any occasion. They are a popular choice during holidays, celebrations, or simply as a daily indulgence.

Versatile Enjoyment: Enjoy these almond crumble cakes with a cup of coffee or tea, or pair it with your favorite dessert wine for a truly elevated experience. They are a versatile delicacy that complements various beverages and occasions.

Elegantly Packaged: 1880 Polvorones Artesanos De Almendra comes in an elegantly designed package, making it a great gift option for friends and loved ones who appreciate the flavors of Spain. 14 Individually wrapped polvorones.
Indulge in the taste of Spain with our 1880 Polvorones Artesanos De Almendra. With their premium quality, traditional craftsmanship, and irresistible flavor, these almond crumble cakes are a must-try for anyone seeking a genuine Spanish culinary experience. Treat yourself or share the joy with others - order yours today!
*Supreme Quality
View full details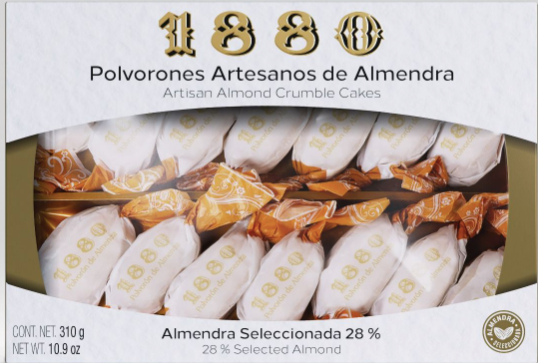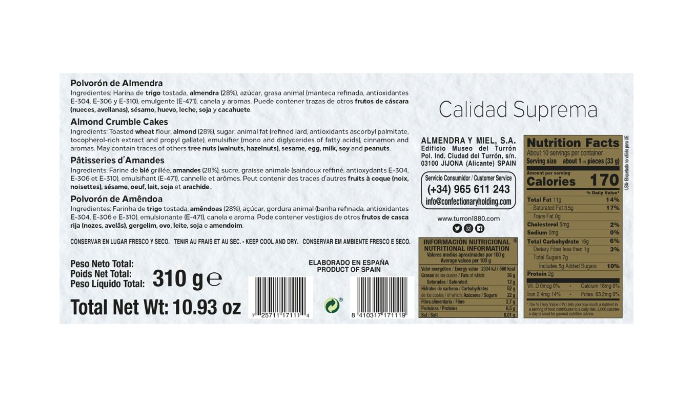 1880 Polvorones Artesanos De Almendra ( Almond Crumble Cake ) Net.Wt 310gr