1880 Peladillas - Candied Marcona Almonds ( 3.5oz/100g)
Spanish 1880 Peladillas - Candied Marcona Almonds (3.5oz/100g)!
Discover the exquisite delight of Spanish craftsmanship with 1880 Peladillas - Candied Almonds. These delectable treats offer a symphony of flavors and textures that will transport your taste buds to the heart of Spain.
Each bite-sized marvel features Supreme Quality almonds, renowned for their superior buttery, sweet taste. Harvested from the sun-drenched orchards of Spain, these almonds are a true culinary treasure. The almonds are carefully coated in a glossy, crisp sugar shell, creating a harmonious balance of crunch and creaminess.
With their convenient 3.5oz (100g) packaging, these Peladillas are perfect for on-the-go snacking, gifting, or indulging in a moment of sweet bliss. Whether you're savoring them as a standalone treat, pairing them with your favorite wine, or incorporating them into your dessert creations, these Peladillas are sure to elevate any culinary experience.
But that's not all - Spanish 1880 Peladillas are more than just a delightful snack; they're also an embodiment of tradition and heritage. Crafted with time-honored techniques passed down through generations, these candied almonds capture the essence of Spanish culinary expertise.
With their irresistible combination of crunchy almonds and sweet, sugary coating, these Peladillas will satisfy your cravings and leave you craving for more. Elevate your snacking experience with a taste of Spain – order your 1880 Peladillas - Candied  Almonds today and embark on a flavor journey like no other!
View full details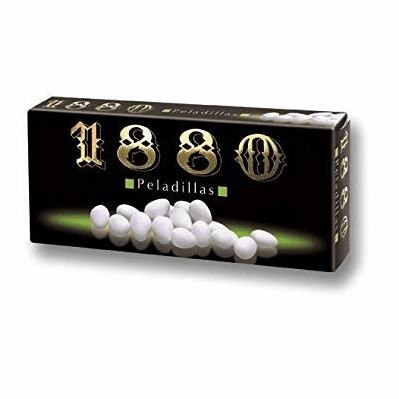 1880 Peladillas - Candied Marcona Almonds ( 3.5oz/100g)