Sku:

S84103171

Vendor: Amigo Foods Store
1880 Mini Hojaldrines (Mini Puff Pastries) Net Wt 10.5 oz
Spanish 1880 Mini Hojaldrines (Mini Puff Pastries) - a delectable treat that brings the authentic flavors of Spain right to your fingertips! These delightful mini puff pastries are a true culinary masterpiece, expertly crafted by 1880, a renowned Spanish brand known for its commitment to quality and tradition.
Product Features:
Authentic Spanish Flavor: Indulge in the rich and irresistible flavors of Spain with every bite of 1880 Mini Hojaldrines. These mini puff pastries capture the essence of Spanish pastry-making expertise.

Perfectly Miniature: Each bite-sized pastry is a work of art, meticulously crafted to deliver a perfect balance of flakiness and sweetness. These mini hojaldrines are perfect for snacking, sharing, or enjoying with your favorite beverage.

Timeless Tradition: 1880 takes pride in preserving the timeless traditions of Spanish pastry-making. These mini hojaldrines are made with the finest ingredients and a commitment to artisanal craftsmanship.

Versatile Delight: Whether you're planning a Spanish-themed party, looking for a sweet indulgence, or seeking a unique gift, these Mini Hojaldrines are the perfect choice. They pair wonderfully with coffee, tea, or dessert wine.

Quality Packaging: 1880 Mini Hojaldrines come in a 10.5 oz package to ensure their freshness and flavor are locked in until you're ready to enjoy them.
Treat yourself to a taste of Spain with 1880 Mini Hojaldrines. Their delicate layers of puff pastry and delightful sweetness make them an irresistible treat for any occasion. Order yours today and savor the flavors of Spain in every bite!
View full details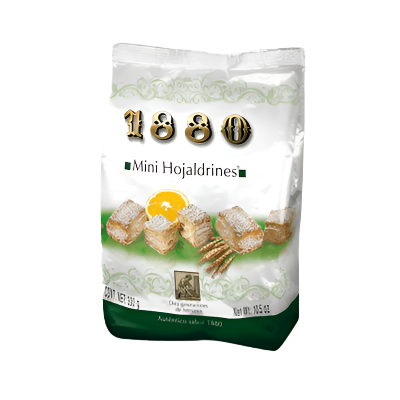 1880 Mini Hojaldrines (Mini Puff Pastries) Net Wt 10.5 oz