Sku:

S7257

Vendor: Amigo Foods Store
1880 Bombonias Cocoa Caramelized Almonds Net Wt. 5.6 oz
Spanish 1880 Bombonias Cocoa Caramelized Almonds - a delightful fusion of premium quality almonds, rich cocoa, and caramelized goodness. With a net weight of 5.6 ounces, these delectable treats are a true indulgence for your taste buds.
Each almond in this carefully crafted confection is selected for its exceptional quality and flavor. The caramelization process creates a perfect balance of sweetness and crunch, making every bite a moment of sheer pleasure. Coated in a luscious cocoa layer, these almonds offer a harmonious blend of textures and tastes that will leave you craving for more.
These Bombonias Cocoa Caramelized Almonds are not only a delightful snack but also a wonderful addition to your culinary creations. Sprinkle them on top of ice cream, yogurt, or desserts for an extra layer of decadence. Their elegant packaging makes them a thoughtful gift for any occasion, adding a touch of Spanish sophistication to your gifting repertoire. Each almond comes in its own individualized container to facilitate its consumption and conservation.
Whether you're treating yourself or sharing with loved ones, the Spanish 1880 Bombonias Cocoa Caramelized Almonds are the epitome of indulgence. Elevate your snacking experience with these delightful almonds, and savor the exquisite taste of Spain in every bite. Order now and embark on a journey of gourmet delight that will surely satisfy your cravings for something truly special.
View full details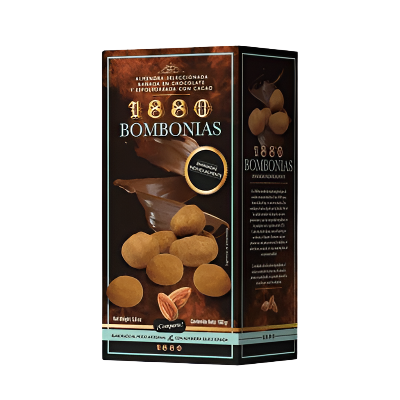 1880 Bombonias Cocoa Caramelized Almonds Net Wt. 5.6 oz